How to find : The site is near the unclassified road which runs between Bridge of Allan and Greenloaning. Just east of the Sherriffmuir Inn the stones can be found on the open moorland.
Best time of year to visit : Summer solstice sunrise, about 21st June.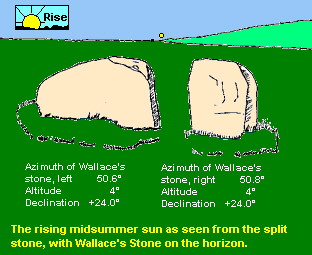 This site was first identified as an alignment by A.F. Hutchison about 1893 and is recorded as such in the NMRS. He found that there were six large stones on the moor, one standing and five fallen, or left deliberately recumbent1. The standing stone is called Wallace's stone. In a story by Blind Harry, the Scottish patriot William Wallace erected the stone after a successful battle against the English. This goes to show how the monuments of a forgotten age are adapted and made meaningful for succeeeding generations.
Hutchison pointed out that the stones are set in a south-west to north-east line. From the south-west, the stones are as follows.
1) A 2 metre long block which has about twenty worn cupmarks visible.
2) Seventy metres to the north-east of this is another two-metre long stone, now split in two.
3) The next in line about 70m distant is a flat stone 1.7m by 1.4m, sunk into the ground. Nearby is another smaller stone which Hutchison thought was a detached part of the bigger stone.
4) About 135m to the north-east (which suggests a missing stone in the interval) is Wallace's stone itself, about two metres high by a metre wide. (It is at NN 83258 02292.)
5) Another 70m north-east is another fallen stone, over 3m long.
All the stones can be located with a bit of legwork through the heather. The easiest way to find the fallen stones is to go to Wallace's stone, then walk from there on a true bearing of about 231° to find stones 1 - 3, and 51° to find stone 5.
The line shows the position of the rising sun at the summer solstice. From any of the stones 1, 2 or 3 Wallace's stone is on the horizon and the sun will rise about this position. As the horizon is relatively high, the sky is already bright by the time the sun appears.
Nearby on the moor in the time of the Jacobites was fought the battle between the armies of the Earl of Mar and the Duke of Argyle.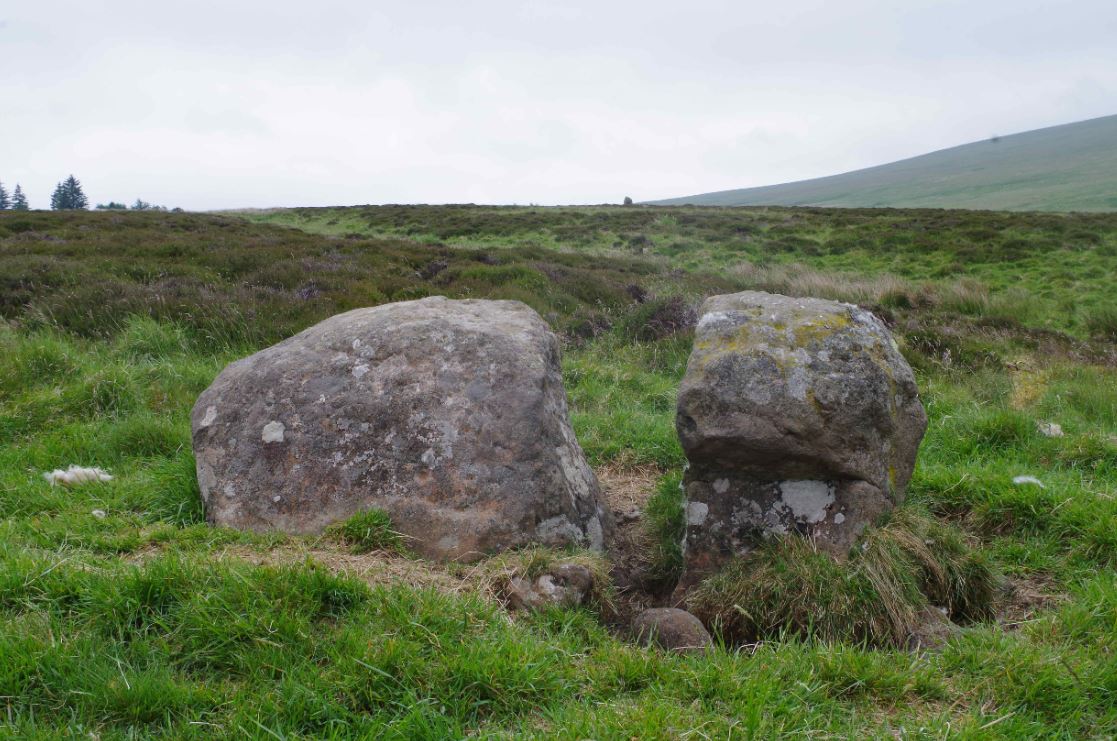 The split stone at Sherrifmuir with the Wallace stone on the horizon
More images of the alignment are available here (170K).
---