---
Stones of Wonder
QUICK LINKS ...

HOME PAGE



---
INTRODUCTION

WATCHING THE SUN, MOON AND STARS

THE MONUMENTS

THE PEOPLE AND THE SKY
---
BACKGROUND

ARCHAEOASTRONOMY

USING THE SITE DESCRIPTION PAGES

VISITING THE SITES

THE LEY LINE MYSTERY
---
THE SITES

ARGYLL AND ARRAN

MID AND SOUTH SCOTLAND

NORTH AND NORTH-EAST SCOTLAND

WESTERN ISLES AND MULL
---
Data

DATES OF EQUINOXES AND SOLSTICES, 1997 to 2030 AD

DATES OF MIDSUMMER AND MIDWINTER FULL MOONS, 1997 to 2030 AD
---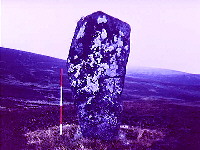 It is now accepted by most people that archaeological sites are part of our common heritage. However, all of the sites in this Web guidebook, except those noted as being in state care, are on private land. The inclusion of a site in this guidebook does not mean that you have a right to visit it. Many people labour under the illusion that there are no trespass laws in Scotland. This is not the case.
See the Scottish FAQ -
" It is a perpetual myth that there are no trespass laws in Scotland. Even before the recent Criminal Justice and Public Order Act 1994, trespass has long been a delict (civil wrong) which is remediable by the remedies of interdict and damages. Trespassers may also be asked to leave the property, and if they do not comply, may be forcibly removed.
Furthermore certain types of trespass have been criminal since the Trespass (Scotland) Act 1865 was passed, an Act no-one has ever heard of. Section 3 makes it an offence for any person to lodge in any premises, or occupy or encamp on any land, being private property, without the consent of the owner or legal occupier. Admittedly this section envisages a degree of permanency which will not be present in every situation of trespass. "
Continued access to archaeological monuments depends on the goodwill of landowners, farmers, shepherds, foresters and others who make their living from the land. Consequently you should ask permission, if appropriate, before visiting an archaeological site. Often a local person working or living close to the site will be able to advise. In most cases permission will be given gladly.
Most farmers are proud to have important sites on their land and in their care, and can often give much more information and advice. It is essential to get permission if you are going to camp in the vicinity. Where private landowners are known to object to visitors to sites on their land, the site has not been included in this Web guidebook. However, land ownership obviously can change and so always check first.
In the author's experience problems of access only occur in the following cases -
1) Standing crops. Crops are regularly grown in some fields with standing monuments, for example at Ballymeanoch, Dalchirla and Nether Largie. You should never enter a field with a growing crop, whatever growing stage it is at. Remember long grass can be a crop too, and trampling it down makes it impossible to machine harvest.
2) Shooting. Organised game shooting goes on in season, almost always on open moorland, but other shooting, particularly of crows, rabbits and foxes can take place at any time. You will be asked to keep away for your own safety.
3) Dogs. The most likely reason you will be refused permission to walk on farmed or enclosed land is if you have a dog. Farmers lose lambs and sheep every year to dogs; pregnant ewes can miscarry after the shock of being chased. If you are refused permission, offer to leave the dog in the car, or tied up by the road. In any case, keep it on the lead at all times.
4) The car. Many farmers or landowners are happy to let you walk to a site, but will not let you take the car, even if there is a track leading right up to it. This is likely to be because previous visitors have blocked access for machinery by parking carelessly, or have driven into the ditch and the farmer has had to pull them out with the tractor, or they don't want to set a precedent. Take a walk, its better for you anyway.
Despite all this, if you are a visitor to Scotland you are likely to be pleasantly surprised by how free you are to walk almost anywhere you want to on open land, compared with similar countries such as Wales or Ireland. This is partly by custom and, it must be said, partly because of the low numbers of visitors and walkers, especially in months other than July and August.
Visitors to archaeological monuments have traditionally been accepted everywhere, please help to keep up our good record. It goes without saying that you should not disturb or damage the monuments in any way.
An Ordnance Survey map for the area you wish to visit will be an immense help, especially at the 1:50,000 or 1:25,000 scale. Details have been given of how to find every site in the following pages, but sometimes where sites are far from a road the map will be essential. Note, however, that many sites will not be marked, and you will have to locate them by using the grid reference. Also be aware that changes can occur, new roads can be built, forestry plantations can be created and so on, and nowadays, with the benefits of the EU, farm land can fall out of use, so be aware of this while using your maps and this Web guidebook, which are by necessity snapshots in time.
A user of this guide should also be aware that there is deliberately a range of different monuments in this Web guidebook. The range includes many of the most spectacular prehistoric sites in Scotland, such as Callanish, Maeshowe and the circles on Machrie moor, in state care. But it also includes many lowly sites which do not appear to be particularly significant, or are in a poor state of preservation, often in isolated positions. These sites have been included because they are relevant to the skywatching theme of this guidebook, and because they often give a better sense of their purpose - and the conditions under which they were originally used - than the more popular sites.

---
---
---
Return to Stones of Wonder opening page