Links to archaeoastronomy pages, Scottish archaeology pages and other sites of interest
RCAHMS - CANMORE. If you want information on any kind of ancient site in Scotland, look in Canmore, a comprehensive online database.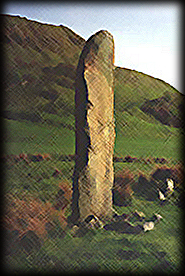 University of Edinburgh - Discovering Scotland.
University of Glasgow - The Archaeology of Scotland.
Rampant Scotland - Archaeology. A good set of links.
Electric Scotland's Scottish history.
Tartan Pages History and Heritage links.
Sigurd Towrie's Orkney Website. If you want information about Orkney, this is the place to go. Covers many prehistoric sites.
Ancient Scotland. Pictures and information about burial sites, megaliths, settlement sites and prehistoric art.
Pictish Pages A look at the Picts and Pictish Stones.
Britain Express has an excellent list of prehistoric sites in Scotland, compiled by Barbara Ballard.
Suite101 has a first-class collection of Scottish history links and recommendations, by Matthew White.
Celtic Trails - Jackie Queally takes visitors to Cairnpapple, Traprain Law, Culross and other interesting places around Edinburgh.
Scottish History Online - Scottish history, with good coverage of the Picts and the north-east.
Islands of the West - Scotland Web directory.
---
Stones of Scotland - Lists all the prehistoric standing stones, burial mounds and other ancient landmarks in Scotland, along with photographs in both low and high resolution, locations with Ordanance Survey map refernces. Also states if access is suitable or not for the disabled.
Ring of Brodgar, Stone Circle, Orkney - A beautifully detailed, photographic study of the Ring of Brodgar in Scotland, along with commentary by the photographer, archaeologically significant as one of the largest complete rings of standing stones in Britain.
Professional Photographs of Scotland - Landscape, standing stones, historical, plantlife, environmental and personal work.
Dark Isle - Photos and descriptions of historic sites in Scotland including many castles, cairns, standing stones, Pictish stones and Celtic crosses.
Duine Stane - A new group of previously unkown standing stones has been discovered in Glen Lachart, Scotland.
Ancient Stones - A guide to the standing stones, stone circles and other sites of South East Scotland.
The Megalith Map - An index of all known stone circles and rows in England, Scotland, Ireland and Wales, via clickable maps, created by Andy Burnham and Alastair McIvor in association with Aubrey Burl.
Recumbent Stone Circles in North East Scotland - Description and illustrated gazetteer of this distinctive type of stone circle, provided by Anna Edelsten, University of Aberdeen.
Neolithic, Bronze Age and Pictish Sites of North East Scotland - Photographs and locations of stone circles and carved stones in Aberdeenshire by George Soja.
Ancient Stones - A guide to the standing stones, stone circles and other sites of South East Scotland.
Da Heights, Foula - An excavation report is available here detailing a newly discovered stone ring oriented towards the midwinter sunrise.
Satan does Stonehenge - Interesting essay about the modern use of Callanish (despite the name of the page).
---
Ireland
Archaeoastronomy - Bluhorizonlines. Ancient astronomy in Ireland.
The Sacred Island. An investigation of aligned sites in Ireland, especially chambered cairns in Co. Sligo. Also has a useful map.
---
General / International
Stillaig.com - Astronomy
Astronomy directory and blog.
Night Sky Info
Weekly information about the night sky, astronomy articles and observations.
Italian Rock art
(Mostly in Italian) Images shown are full of interest for anyone interested iin ancient carvings.
Andy Worthington - 'Social historian - author of 'Stonehenge: Celebration and Subversion' and editor of 'The Battle of the Beanfield'.'
History of Astronomy and Ancient Astronomy. An excellent set of annotated links for ancient astronomy, part of a large astronomy resource by Gary Agranat.
The Center for Archaeoastronomy. Produces the only journal devoted to research into the subject.
Stone Pages. An excellent guide to European sites (including many in Scotland).
Society for Interdisciplinary Studies. Ancient History, Archaeoastronomy, Palaeontology, Mythology, Astronomy, Catastrophism, Cosmology....
More between heaven and earth. Investigation of megaliths and astronomy and also megalithic art in Ireland, Scotland, England and Wales. The creator of this site has also set up a Web camera at Maes Howe to view the midwinter sunset.
Megalithic Mysteries. Photographic guide to megalithic sites, plus a developing database of such sites on the Web.
Well Within. If you live in the USA, this organisation runs tours to Scotland, including visits to archaeological sites.
Places of Peace and Power. Anthropologist and photographer Martin Gray has visited and photographed nearly1000 pilgrimage sites and sacred places in 50 countries around the world. This web site features many of photos and writings, and has an extensive links section.
Bruno Goosens Interesting links directory, with section on Scotland (in French).
---
---
Some extra listings above from the ODP