Standing Stone NM392197*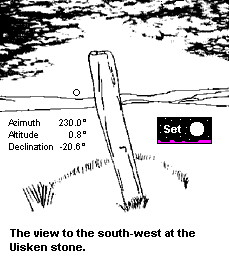 How to find: From Bunessan on the Ross of Mull take the minor road going south. Just over 3km along this road you will see a farm track on the left. Walk to the farm, ask permission for access. If given, continue walking north-east for 500m, past a ruin, to the brow of the hill, just beyond which the stone is visible.
Best time of year to visit: Midsummer sunrise, about June 21st; minor standstill moonset.
This is a single standing stone, over 2 metres tall and now leaning slightly. It is set on open ground with fine views all around.
The stone is a fairly thin slab, with the broad faces about one metre wide, so it clearly indicates a line to the north-east and to the south-west. The survey was done assuming the stone was once set vertically in the ground.
To the south-west, the azimuth of 230.0° with a horizon height of 0.8° gives a declination of -20.6°, close to the position of the midsummer setting full moon at the minor standstill.
In the opposite direction, to the north-east, the azimuth of 50.0° with a horizon height of 2.3° gives a declination of +22.7°, so the stone points close to the position of the rising sun at midsummer, but not accurately.
Either of these events could be the one which the builders intended to mark, but it is unlikely that both were to be covered by the one stone.
---
Return to Western Isles and Mull index