Alignment NB204429*
How to find : The site is in a small field south of and on the slope below the minor road which runs through Upper Carloway. The upright stone is visible from the road. The village of Carloway itself is 9km north of Callanish.
Best time of year to visit : Lunar major standstill (see dates).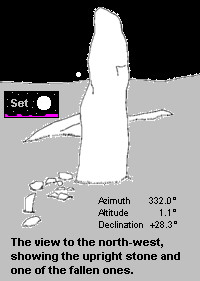 This site was likely to have been an alignment of three standing stones; only one of these is still upright, the other two are broken and lying where they fell. The alignment would have been only about 5 metres long, on a north-west to south-east line.
The upright stone is 2.5 metres tall, and leans slightly to the north. Because of the shape of this stone, the surveyed line must be more subjective than usual, and for this reason the azimuth of the line was measured separately from each end.
The results of the survey suggest that the alignment was erected to mark the rising and setting points of the moon at the major standstill.
To the south-east, an azimuth of 158.8° with an altitude of 1.5° over the nearby ridge gives a declination of -28.7°, close to the position of the rising southern moon. To the north-west, the azimuth is 332.0°, with a horizon height of 1.1°. This produces a declination of +28.3, and is the setting position of the extreme northern moon during the major standstill. It is possible that only one of these positions was intended to be marked.
These are limiting positions for the moon - in other words the moon can never rise further to the south or set further to the north. These horizon points could have been determined by the prehistoric people who erected the stones simply by observing the setting and rising positions of the full moon at midsummer and midwinter over a long period.
---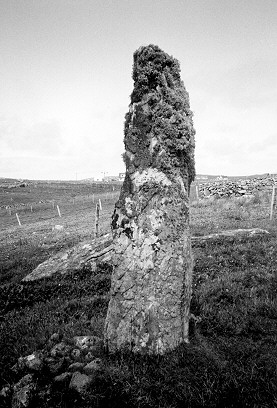 Clach an Tursa


---
Return to Western Isles and Mull index