---
Stones of Wonder
QUICK LINKS ...

HOME PAGE



---
INTRODUCTION

WATCHING THE SUN, MOON AND STARS

THE MONUMENTS

THE PEOPLE AND THE SKY
---
BACKGROUND

ARCHAEOASTRONOMY

USING THE SITE DESCRIPTION PAGES

VISITING THE SITES

THE LEY LINE MYSTERY
---
THE SITES

ARGYLL AND ARRAN

MID AND SOUTH SCOTLAND

NORTH AND NORTH-EAST SCOTLAND

WESTERN ISLES AND MULL
---
Data

DATES OF EQUINOXES AND SOLSTICES, 1997 to 2030 AD

DATES OF MIDSUMMER AND MIDWINTER FULL MOONS, 1997 to 2030 AD
---
Standing Stones NX404716*
How to find : The site is near an unclassified road which runs parallel to the A714 Newton Stewart to Girvan highway, on the east side of the River Cree. This unclassified road must be taken from Minnigaff (travel north) or at Clachaneasy (travel south). Leave your car near Drannandow, 4km north of Minnigaff. A walk of two kilometres up farm track and open moorland is necessary. A map and compass are essential.
Best time of year to visit : Winter solstice 21st or 22nd December (sunset). Major standstill (northern) moonrise. (see dates).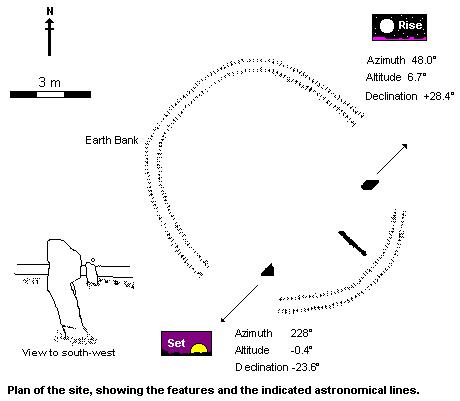 This site requires some effort to visit, but you will be rewarded by the experience of two tall aligned prehistoric menhirs in a peaceful and isolated setting.
The site consists of two tall stones set on a north-east to south-west line, and a third low slab offset between them. This low slab may not be immediately visible as the site is very overgrown. There is also the remains of a low oval earthen bank measuring 9m x 7.5m surrounding the stones. If this bank is prehistoric, it is a very unusual feature. It may have served to delimit a sacred area, similar to the function of stone circles and henges.
The two tall stones incorporate two alignments. To the southwest, the position of the setting sun at midwinter is shown. To the northeast, an indicated azimuth of 48° and a relatively high horizon altitude of nearly 7° gives a declination of +28.4°, which is the value for the rising moon at its most northerly position during the major standstill. This occurs about every 19 years.
It can be seen that this monument makes use of the simplest possible arrangement to incorporate markers for the two extreme winter positions of the sun and the moon.