Standing Stone NG020939*
How to find : The stone is in a field 3km south of Horgabost, and is visible on the west side of the road. (Site sometimes also referred to as 'Borvemore'.)
Best time of year to visit : 4,5,6,7,8 May ; 5,6,7,8,9 August. (See sunset photo below).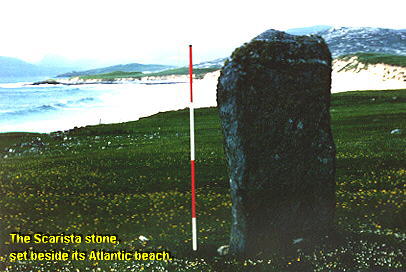 This fine 2m tall slab has two fallen stones close by, one of which may have formed an alignment with it. Like Clach Mhicleod at Horgabost, this stone has a flat face and points out to sea.
The azimuth of 301.0° with a sea horizon of -0.1° gives a declination of +16.5°. This is the declination of the sun close the Scottish Quarter days of Whitsun (in May) and Lammas (in August).
As mentioned in the Introduction, these times of the year are close to the old Celtic festivals of Bealtuinn and Lunasda. Bealtuinn falls midway between the spring equinox and midsummer, while Lammas falls midway between midsummer and the autumn equinox. It should be noted that the standing stone at Horgabost, Clach Mhicleoid, is possibly meant to indicate the position of the setting sun close to the equinoxes.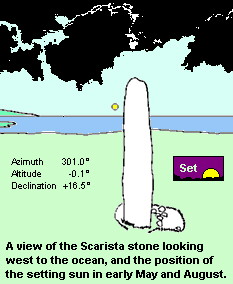 Alexander Thom suggested that the prehistoric inhabitants of Britain had created an eight month calendar, based on midsummer, midwinter and the equinoxes - which divide the year into four parts - plus Whitsun, Lammas, Martinmas (early November) and Candlemas (early February), so achieving eight 'months'. This was based on analysis of his pioneering surveys of hundreds of prehistoric sites all over the country which showed up the necessary solar orientations for those calendar dates again and again.1 The stone at Scarista was not one of the sites he used in his analysis.
Such an interpretation of the stones has not been followed by most archaeologists, and critics have pointed out that the society suggested by the physical remains from the period would have had very little use for such a calendar, and that the people were also almost certainly non-literate.
It may be that the prehistoric peoples of Scotland did not use a calendar as we understand it, but simply used the orientated stones and the movement of the sun to identify the correct time of year for their annual or seasonal festivals and rituals.
---
I am very grateful to Marco Secchi for sending me the photo below. This shows sunset at the Scarista stone, and it was taken on the 8th August 2003. Thanks Marco!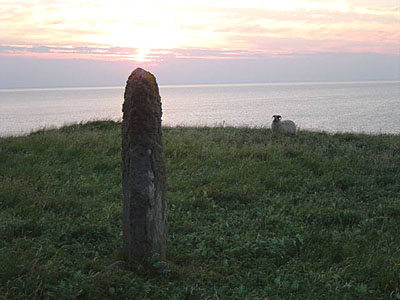 ---