Recumbent Stone Circle NJ551488*
How to find : This recumbent stone circle is about 0.5km from Milltown of Rothiemay. Take the B9117 going east. Look for a gate on the right, from where the stone circle is visible in the field. The site is also referred to as 'Millton'.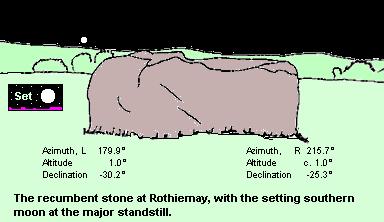 Best time of year to visit : Lunar major standstill.
This is a ruined but still recognisable recumbent stone circle, about 28 metres in diameter. The site is in a flat field, and all of the interior ring cairn material has been removed. The massive recumbent stone and a few of the other substantial stones of the circle remain in position.
A visitor will notice immediately the extensive cupmarking on the inner side of the recumbent, which is the most highly decorated of all the recumbent stones. Altogether there are 119 cupmarks on this stone, some of which also have rings around them.
From about the centre of the ring the recumbent stone covers a band of horizon 17° wide, from 197°.9 to 215°.7. A horizon of about one degree in height behind the recumbent gives a declination range from -30°.2 to -25°.3. This means that the southern full moon at the major standstill would set over the stone, on its left side.
It has been suggested that the cupmarks on the stone are a record of each full moon from the major standstill to the minor standstill1. This would have been over a period of 9.3 years and have covered about 115 lunations, which is a fairly good match with the number of cup marks the recumbent stone shows.
The recumbent stone at the Rothiemay recumbent stone circle, showing the cup marks
---