Standing Stone NR372456*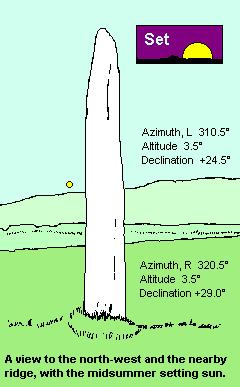 How to find : Go west from Port Ellen and only 200m out of the town turn left into a minor road. Follow this road for just 100m, and the stone is visible in the field to the right.
Best time of year to visit : Midwinter sunrise; midsummer sunset.
This is a splendid lichen encrusted prehistoric stone, fully 4.5 metres tall by about a metre wide and half a metre thick.
Its flat faces indicate the south-west and north-east directions. To the south-east the southern part of the Kintyre peninsula is visible when the weather is clear. This is about 40km distant. The range of azimuths defined by the stone to an observer standing about 2 metres from it is 130.5° to 140.5°. With the horizon heights of respectively 1° and 0.2° the declination range is from -20.9° to -25.5°. This seems to suggest the stone marks the rising position of the midwinter sun.
To the north-west the azimuth band is from 310.5° to 320.5°. The nearby hill horizon is about 3.5° in both cases, and the declination band is from +24.5° to +29.0°. This means that the left side of the stone is close to the position of the setting sun at midsummer.
It seems unlikely that both midsummer and midwinter solar positions were indicated deliberately.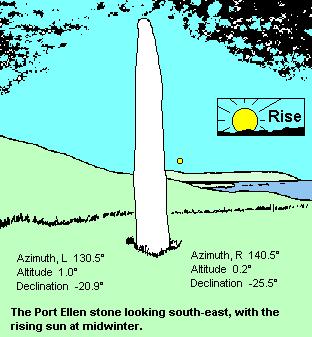 ---