Recumbent Stone Circle NJ699064*
How to find : Travel west from the village of Echt on the B9119 for just over 4km, then turn up the minor road to the north, and park outside Midmar kirk. The site is in the kirkyard.
Best time of year to visit : Lunar minor standstill ; any clear winter night.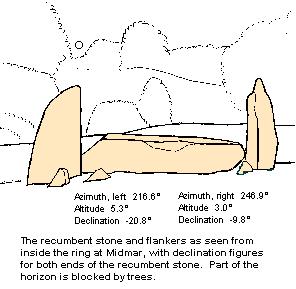 This is a fine example of a recumbent stone circle, of which there over 70 surviving sites in the north-east of Scotland. The circle at Midmar is interesting because it is now thought that the ring cairns which exist inside many of these sites may be later additions, and the original circles would have had a clear and level interior. Midmar recumbent stone circle is in just such a condition, as the interior ring cairn has been cleared away. This recumbent stone circle is located in a peaceful and well manicured graveyard, which was laid out around the site in 1914.
The great recumbent stone here is very impressive, but even more so are the two large pointed flankers on each end of it, both about 2.5 metres tall. The circle of lesser stones, some of which may have been re-erected, is over 17 metres in diameter.
The horizon range defined by the recumbent stone as seen from the centre of the circle is from 216°.6 to 246°.9, which with the varying horizon height above the stone give declinations from -20°.8 to -9°.8. This means that the stone covers the position of the setting full moon during the minor standstill.
Another interpretation is that the recumbent was positioned to record the setting position of the moon at the time the circle happened to be erected; or that it was aligned on the setting position of a stellar constellation, namely Orion. The labour and effort required for the construction would then have been rewarded every year, rather than every eighteen years.
About 2000BC Orion, which is visible in the night sky in winter, would sink behind the high horizon above the recumbent stone, with the brighter stars remaining visible as the constellation set. Today, Orion rides much higher in the sky and would be seen passing well above the recumbent and flankers.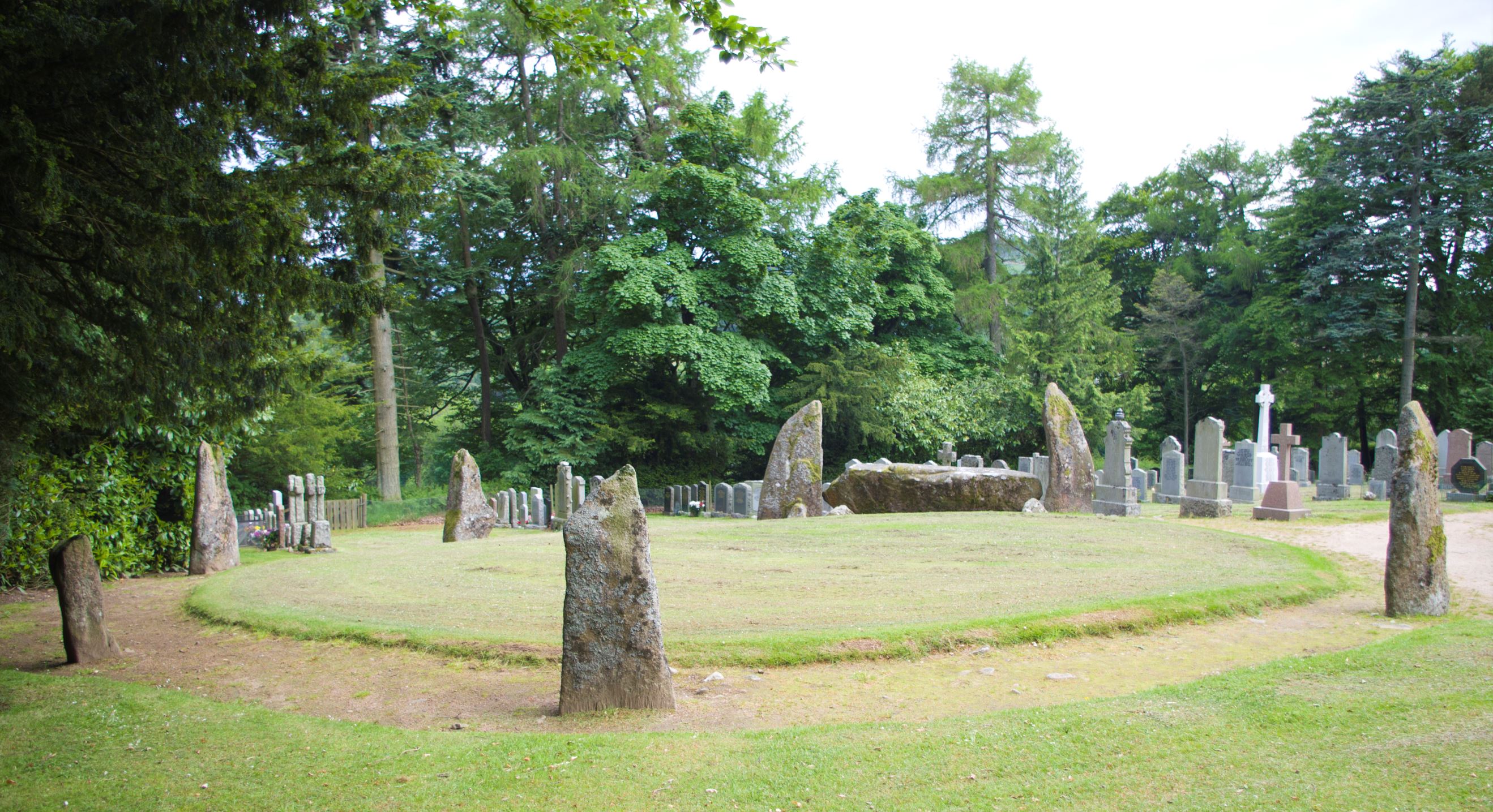 The recumbent stone circle at Midmar, set in the graveyard by the church
---