Standing Stone NC941151*
How to find : From Lothbeg on the A9 take the Glen Loth single track road north, and follow it up the glen for 4km. The large stone is visible on the moor to the east. The ground is very soft in wet weather.
Best time of year to visit : Midwinter sunset.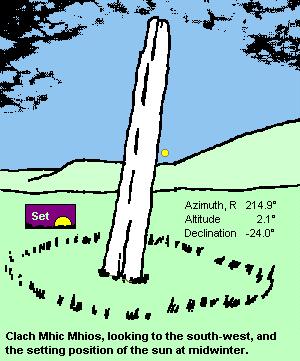 This fine stone is situated on a level area of rough moorland below Beinn Dhorain in Glen Loth. It is nearly 3.5 metres high and 1.5 metres by 0.3 metres wide. This is one of the few stones in Scotland from where there are no signs of permanent human occupation visible anywhere, and the glen has a wild and lonely atmosphere in all weathers.
Standing stones in such positions in an uninhabited glen are sometimes not prehistoric, but are more modern route markers. However, if the stone were a route marker, the wide flat face would likely have been set facing up and down the glen, for maximum visibility. The stone is actually set with its narrow edges pointing up and down the glen, north-east to south-west, and is likely to be prehistoric.
To the north-east the ground rises to a flat horizon with no likely astronomical target. To the south-west, the azimuths indicated by the stone's thickness, viewing from a position about 4 metres from the stone, lie in the range 203.3° to 214.9° The higher value indicates a position close to that of the setting sun at midwinter.
---
Return to North and North-east Scotland index
Return to Stones of Wonder opening page