Standing Stones NC936127*
How to find : From Lothbeg on the A9 take the Glen Loth single track road north, and follow it up the glen for 2km. Park off the road by the bridge, from where the stones are visible just above the road to the west.
Best time of year to visit : Midsummer sunset.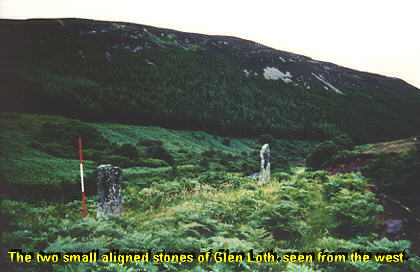 This is an alignment of two stones overlooking the place where two burns meet. On a still day in summer the midges are about as bad as they can get. With luck you will have a breeze.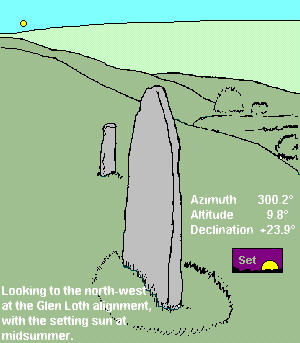 The alignment is north-west to south-east. The northern stone is nearly 1.5 metres high, and is squarish in section, 35 cm thick. The southern stone is a flat slab about the same height as the other, but only about 12cm thick. This slab does not quite point to the other stone, but the bearing will be taken as that formed by the two stones themselves.
To the south-east, the bearing of 120.2° with a horizon height of 5.8° gives a declination of -10.4°, which is of no known astronomical significance.
In the opposite direction the azimuth of 300.2° with an extremely high horizon height of nearly 10° gives a declination of +23.9°, good for the setting position of the sun at midsummer. With such a high horizon, bright daylight will remain even after the sun has disappeared.
---