---
Stones of Wonder
QUICK LINKS ...

HOME PAGE



---
INTRODUCTION

WATCHING THE SUN, MOON AND STARS

THE MONUMENTS

THE PEOPLE AND THE SKY
---
BACKGROUND

ARCHAEOASTRONOMY

USING THE SITE DESCRIPTION PAGES

VISITING THE SITES

THE LEY LINE MYSTERY
---
THE SITES

ARGYLL AND ARRAN

MID AND SOUTH SCOTLAND

NORTH AND NORTH-EAST SCOTLAND

WESTERN ISLES AND MULL
---
Data

DATES OF EQUINOXES AND SOLSTICES, 1997 to 2030 AD

DATES OF MIDSUMMER AND MIDWINTER FULL MOONS, 1997 to 2030 AD
---
Standing Stones NR743616*
How to find: Follow the A83 south from Tarbert for 1km, then take the minor road on the right (signposted for Kilberry). After 1km go left on the B8024. Travel for 13km and look out for the stones in the field to the left (south).
Best time of year to visit: Noon or any clear night.
There are two stones in alignment here on a north-south line, set in a flat field close to the sea. The stones are 3 metres and 2.3 metres high, and stand over two metres apart. About one hundred metres to the west in another field is a third standing stone, also 2.3 metres tall.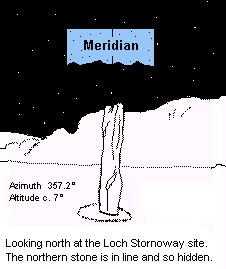 The single stone appears to have no astronomical significance ; as seen from between the two aligned stones the azimuth of 283.7° and horizon height of 3.3° produces a declination of +10.4°, so the line points to nothing in particular.
The two aligned stones are set north to south, on a bearing of 357.2° and 177.2°. This is very close to an accurate meridian. In both directions the line is of course beyond the setting or rising points of the sun or moon. The meridian is not an arbitrary modern convention, but a fact of nature caused by the rotation of the planet Earth on its axis ; in our northern latitudes this causes the heavens to appear to revolve around one point in the north, and causes the sun and moon always to take up their highest positions in the sky due south.
The northern horizon is high enough so that stars would always be fully visible. The meridian may have been identified by observing the circling of the stars around the celestial pole (north), or by observing the shortest shadow cast by the stones about noon (south). These phenomena are of course linked, but the real significance of the meridian to the prehistoric inhabitants of Knapdale is not known.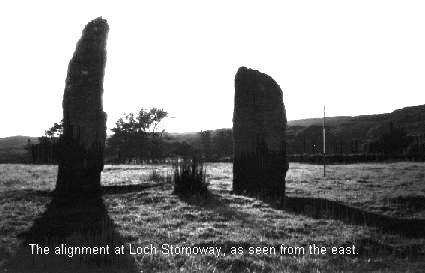 ---