Stone Circle and outliers NM618252*
How to find: Follow the A849 south from Craignure for 9km, then turn left onto the minor road which leads eventually to Lochbuie. Park at the small road bridge where a sign directs you along a path and track to the stones, about 600m away. The circle is not visible from the road.
Best time of year to visit: Winter solstice sunset; Winter Quarter days sunset.
This is a small and well preserved stone circle set on the beautiful southern coast of Mull and overlooked by spectacular Ben Buie.
Here we have a circle originally of nine granite stones, set in a ring about 12 metres in diameter, with the tallest stone being about two metres high. One of the original stones has been removed and replaced with a low boulder.
There are also three single stones set in the field at different distances from the circle. It is natural to assume that these stones mark the direction in which to look from a position in the centre of the circle.
The nearest of these outlying stones is 5 metres away to the south-east, and is only one metre tall. Its azimuth of 123° with a very high horizon gives a declination of -12°, of no known significance1.
The second outlier is a spectacular monolith 3 metres high and set about 40 metres away to the south-west. The azimuth of 223.6° with a horizon height of 0.4° gives a declination of -23.7°, and so indicates the position of the setting sun at the winter solstice. The horizon is now partially blocked by nearby trees.
Also south-west of the circle, 107m away, is the third outlier, over 2 metres high. The stone is broken at the top and was probably taller when erected. The bearing of 237° and an altitude of just over 2° gives a declination of -16.0°. This is the declination of the sun at the winter Quarter days in early November and early February.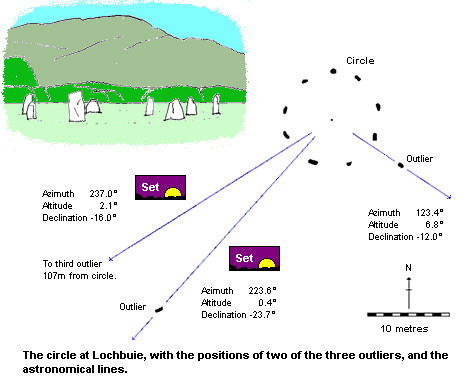 ---