Recumbent Stone Circle NJ748289*
How to find : Six kilometres north of Inverurie is the village of Daviot. A few hundred metres north of Daviot a sign on the road directs you to the stone circle, which is in state care. Known locally as 'the Loanies'.
Best time of year to visit : Trees currently block horizon (but see below).
This is a well preserved (and partly restored) example of a recumbent stone circle. These sites are fairly common in the north-east of Scotland and consist of a low ring cairn surrounded by a stone circle, with one enormous recumbent stone and two tall flanking stones as part of the circle.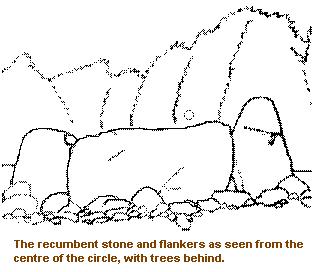 As is usual, the stones of the circle are graded, with the higher ones closest to the recumbent. There are at least five cupmarks on the stone anticlockwise from the east flanker (see photo of this stone below). The circle itself is 20 metres in diameter, within which lies the ring cairn, with a clear central area about four metres across in the very middle of the site.
An excavation in 1932 turned up many beaker sherds which shows that the ring cairn was in use in the Early Bronze Age. It is likely to have been built at an earlier period though, as Neolithic pottery was found in some of the stoneholes. A cist was also found containing a Middle Bronze Age incense cup. The ring cairn was also discovered to overlie traces of burning, and in the central area were found charcoal, cremated human bone and flakes of flint. An information board on the site summarises what is known of the structural sequence here.
South-east of the circle lies an enclosed cremation cemetery. This dates to the bronze age. West of the stone circle is an outlying stone.
Unfortunately, though the recumbent stone circle is near the summit of a hill and there are good views to the north, the southern horizon is blocked by a wood next to the site. This means that though the azimuths can be determined, the horizon altitudes cannot be measured directly. If the trees are one day removed, the following applies - if the horizon at the right side of the recumbent, as seen from the centre of the ring cairn, is about -1°, then the line is good for the setting southern moon at the major standstill. Alternatively, if the horizon at the right side of the right flanker is about 2°, it marks the position of the setting sun at midwinter.
The outlying stone to the west, azimuth 267.2°, altitude 2.5° gives a declination of +0.4° and is therefore close to the position of the setting sun at the equinoxes. Currently, trees also block this line.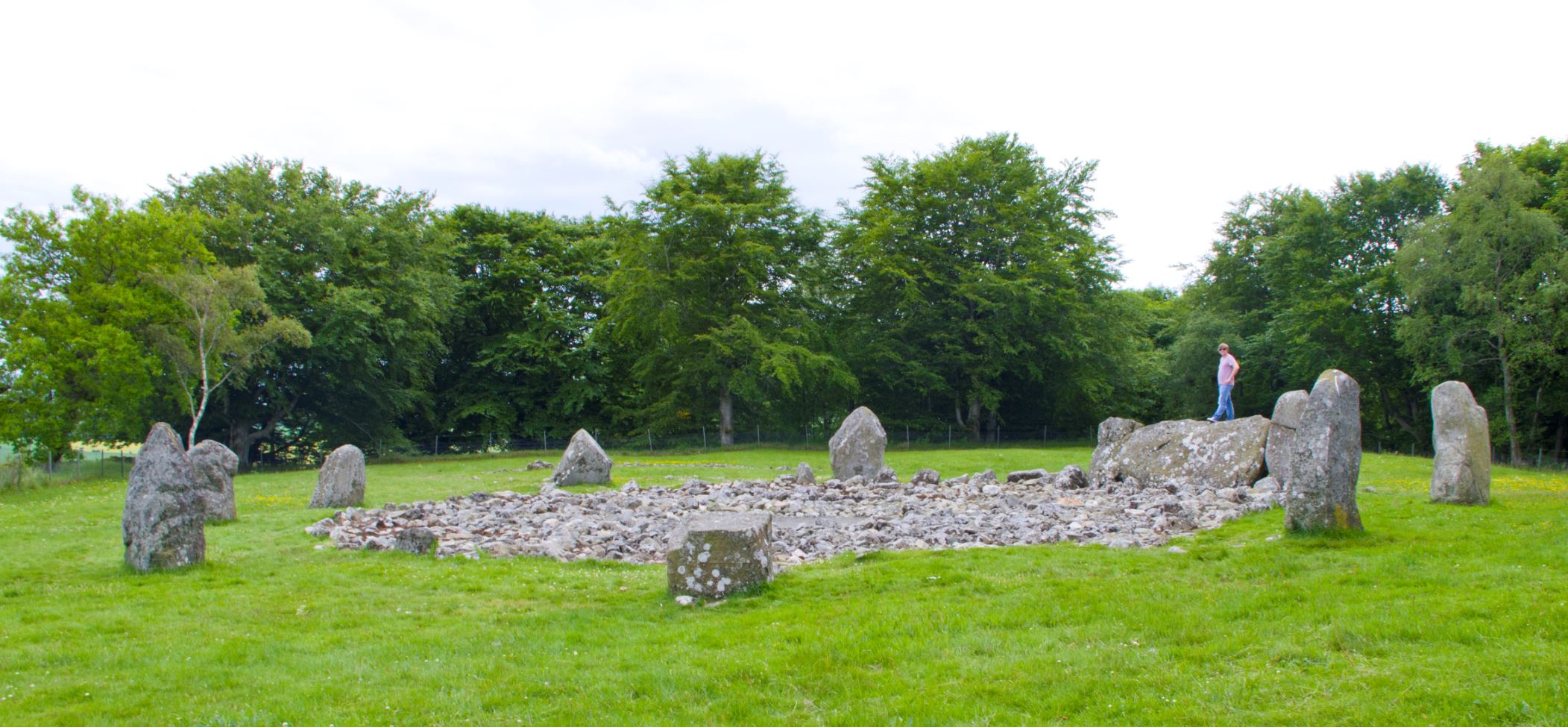 The Loanhead of Daviot recumbent stone circle
---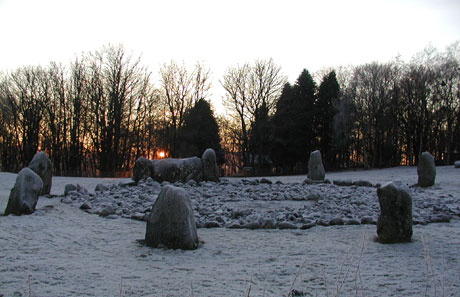 Setting sun at midwinter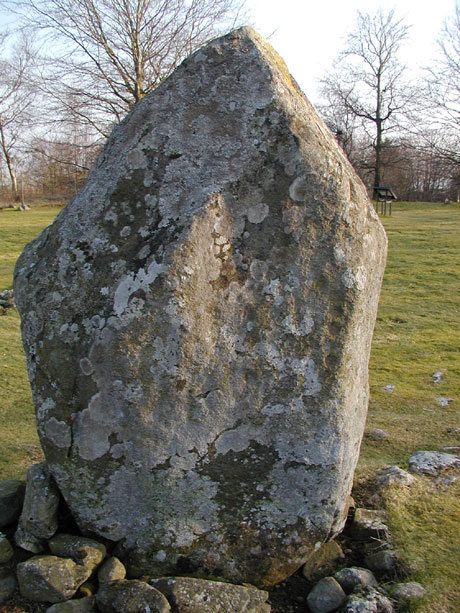 Cupmarked stone, at vernal equinox sunset, angle of sun helping to reveal the cupmarks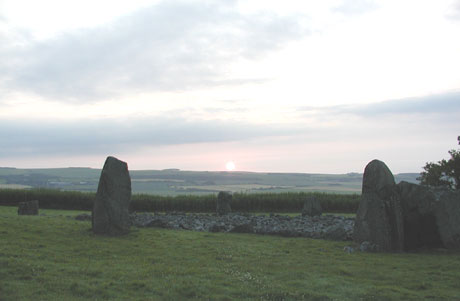 Sunrise, 5 days after the summer solstice