Standing Stone NR703125*
How to find: Take the B842 south from Stewarton for 8km. Look for a sign on the left for Knockstapplemore chalets - the track is poor, and best walked. Walk past Knockstapplemore, and turn left up a forestry track and so onto the moor. The area immediately around the stone has not been planted with conifers.
Best time of year to visit: Major standstill moonset (see dates).
This slab is over 3 metres tall and is visible from the Campbeltown - Southend road and from a surprisingly wide distance all around. It now leans slightly to the north-east.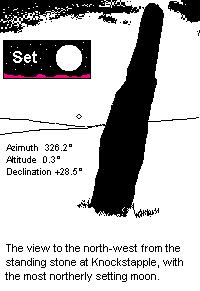 The stone is nearly 1.5m wide and so presents good flat faces - these indicate the north-west and the south-east horizons.
To the flattish horizon on the south-east, the calculated declination of about -27° does not seem to realate to any significant astronomical event, though it is close to the rising position of the extreme southern moon.
Towards the north-west however, the flat face of the stone appears to indicate a dip in the hills, and this is the place the moon would have set at its most northerly position during its 18.6 year cycle.
The interest in the extreme rising and setting positions of the moon may have followed from observations of the much simpler cycle of the rising and setting sun. At its extremes, the moon reaches areas of the sky the sun can never enter ; this fact is likely to have been the subject of speculation in any prehistoric culture. Stones such as this one may record the discovery of the ultimate lunar positions.
---