Standing Stone NR384466*
How to find: Go east from Port Ellen and only 200m out of the town turn left into a minor road. Follow this road to the end, a distance of 2km. The standing stone is visible in the pasture field to the right.
Best time of year to visit: Sunset at winter Quarter days. Lunar minor standstill.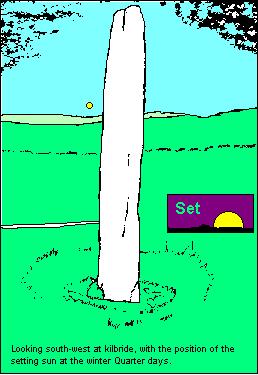 This fine slab is 2.5 metres tall and about one metre wide by 40cm. The slab formerly had a partner, for lying in the turf about three metres to the south-west is another stone which seems to be about three metres long ; when standing, it would have been in line with the surviving stone. So this was clearly a site of some significance to the builders.
At this site we have a choice about the intended celestial event the stones are intended to mark.
To the south-west, the azimuth range covered by the stone to an observer a short distance away is 234.9° to 239.6°, which with a horizon height of 0.7° give declinations in the range -18.7° to -16.1°. This covers the position of the setting sun at the winter Quarter Days about November 7th -16th and January 27th - February 4th. This suggested indication may be acceptable if you believe in a Neolithic or Bronze age calendar system which involved the counting of the days of the year.
To the north-east, the opposite azimuth band with a horizon height of 1° produces declinations in the range +19.5° to +17.2°, which covers the rising position of the midwinter moon at the minor standstill.
---