Ring Cairn NH679358*
How to find : The site is 7km south of Inverness on the B861. It is in a field to the east of the road, and 300m south of Mains of Gask farm.
Best time of year to visit : Lunar major standstill.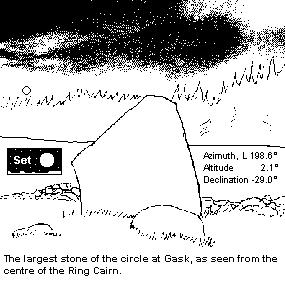 This is a ring cairn, and is the largest of the Clava type cairns, being about 27 metres in diameter. Ring cairns consist of an inner and outer ring of closely set kerbstones, with small stones piled between them; the central area is open, usually with a flat surface. Outside the cairn there is often a concentric freestanding circle of stones.
The Gask example is in a fairly good state of preservation, and the shape of the cairn is still clearly defined by the outer ring of kerbstones, most of which are still in position. As usual with cairns of the Clava group, the largest of these are placed in the south-west, with the tallest being about 1.4m high.
Only a couple of stones from the inner ring are still visible, and the original area of the inner central space is not clearly defined.
This cairn did have a circle of stones surrounding it, but only three still remain standing. At least five others were once present. One of the fallen stones which has three cupmarks has been dragged up close to the northern side of the cairn.
The most obvious feature of the site for any visitor is the large slab set up as part of this surrounding stone circle, in the south-west. It is about 3.4m high and 3m wide, but only 22cm thick.
As seen from the approximate1 centre of the monument this stone covers a band of horizon over 8° wide. The left side of the stone has an azimuth of 198.6°, which with a horizon height of 2.1° gives a declination of -29°, close to the position of the southern moon at the major standstill.
---