---
Stones of Wonder
QUICK LINKS ...

HOME PAGE



---
INTRODUCTION

WATCHING THE SUN, MOON AND STARS

THE MONUMENTS

THE PEOPLE AND THE SKY
---
BACKGROUND

ARCHAEOASTRONOMY

USING THE SITE DESCRIPTION PAGES

VISITING THE SITES

THE LEY LINE MYSTERY
---
THE SITES

ARGYLL AND ARRAN

MID AND SOUTH SCOTLAND

NORTH AND NORTH-EAST SCOTLAND

WESTERN ISLES AND MULL
---
Data

DATES OF EQUINOXES AND SOLSTICES, 1997 to 2030 AD

DATES OF MIDSUMMER AND MIDWINTER FULL MOONS, 1997 to 2030 AD
---
Recumbent Stone Circle NJ715125*
How to find : The village of Kemnay is 5km south-west of Inverurie. Travel one kilometre south of Kemnay on the B993, then turn south (left) on the minor road through Craigearn. One kilometre after Craigearn take the left fork which leads after 1km to Castle Fraser, owned by the National Trust for Scotland. Do not enter the castle grounds, but look to your right (west) through the hedge on the straight stretch of road to spot a pair of standing stones, possibly the remains of a circle. The Castle Fraser stone circle is beyond theses stones, in the same field.
Best time of year to visit : Lunar major standstill.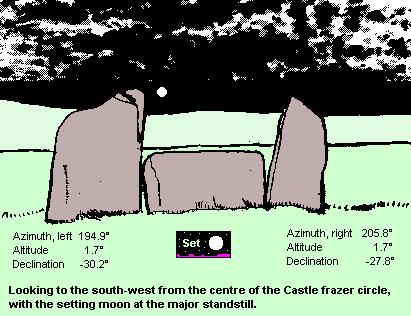 This site is situated in a flat field, an consists of a lichen covered recumbent stone and flankers, with a few of the stones of the circle being still in place. The interior of the circle, 20 metres in diameter, is left uncultivated and there are traces of a ring cairn there. As is usual with recumbent stone circles, the stones of the ring are graded in height, with the tallest being in the south-west.
An excavation within the circle in the middle of the 19th century turned up some thick walled urns. No other excavations have been recorded here since then.
From a position in the centre of the circle, the recumbent stone covers an range of about 11°, from 194.9° to 205.8°. The distant hill horizon is visible above the recumbent, 1.7° at both right and left ends of the stones. These figures give a declination range of -30.2° to -27.8°.
This means that the southern moon at the major standstill would set below the horizon between the tall flankers.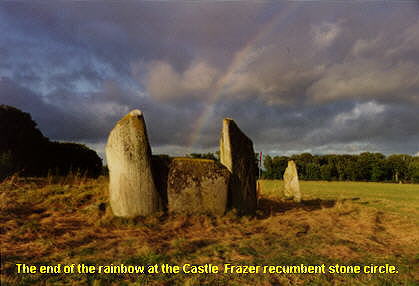 Click here for two more images of the Castle Frazer recumbent stone circle (100K).
---