Stone Circle and Cairn NN924250*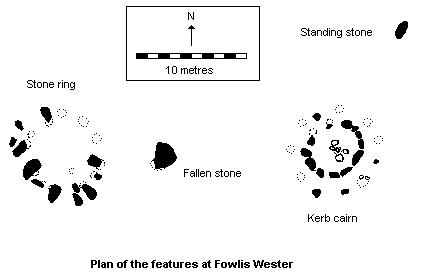 How to find: One kilometre north of (uphill from) Fowlis Wester on the Buchanty road at the top of the hill a track leads west. You may usually park just inside the gate for the track (this is a popular area with birdwatchers, who often park here) and the circles are located half a kilometre down this track. The stones are visible from the road (walk towards the ruined building on the horizon).
Best time of year to visit: Equinoxes, March and September - rises and sets. Lunar major standstill rise.
This unusual site has wide views and is an attractive monument to visit, but is in a very exposed position. There are three different types of monument in association here - a kerb cairn within a ring of stones, a simple stone ring and two standing stones, one of which, located between the kerb-cairn and the ring, has fallen.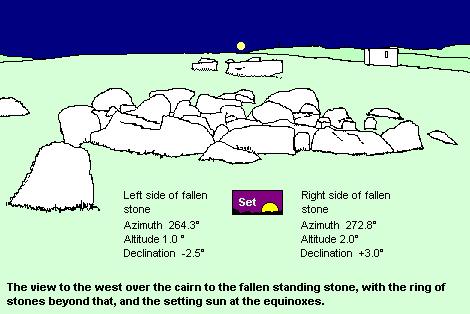 The kerb cairn, with its associated standing stone to the north-east, was excavated by Alison Young about 1943. At that time most of the cairn material had already been robbed away. The excavation revealed the sockets of the missing stones from the outer ring (see plan). On a clay floor in the centre of the inner ring were laid burnt bone and charcoal, later covered with stones. One of the kerb stones in the south-west quadrant was found to be cupmarked on its inner surface.
The western stone ring was found to be badly disturbed when excavated, with many of the stones sloping or fallen. Two areas of charcoal and burnt bone were found within the ring.
Finds from the excavation included much worked quartz and two small sandstone discs, 8cm in diameter. Between the cairn and the ring lies the fallen standing stone.
The orientations built into the monuments here are significant. From the middle of the kerb cairn, the standing stone, 1.8m high, indicates the position of the rising northern moon about the time of the major standstill.
It is impossible to determine the precise line marked by the fallen stone, as seen from the kerb cairn, but the likely range of values has the position of the setting sun at the equinoxes at the centre.
Likewise from the western stone ring, the fallen stone covers the position of the rising sun at the equinoxes.
This site is open to the elements and is a fine place to appreciate the wonders of the sky.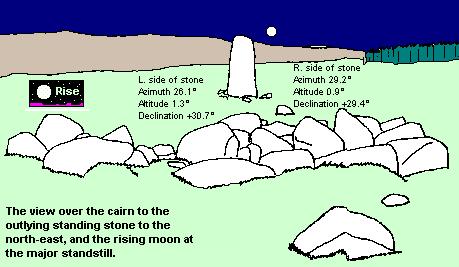 ---
In September 2003, Marco Secchi took the following photos of the equinox sunset at Fowlis Wester, which he kindly sent to me. The fallen stone can be seen in the centre of the images.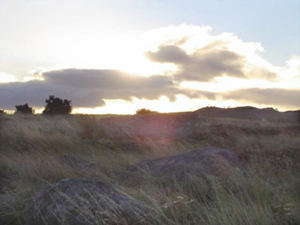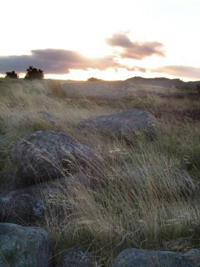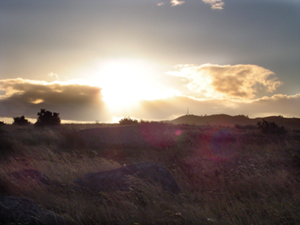 ---