---
Stones of Wonder
QUICK LINKS ...

HOME PAGE



---
INTRODUCTION

WATCHING THE SUN, MOON AND STARS

THE MONUMENTS

THE PEOPLE AND THE SKY
---
BACKGROUND

ARCHAEOASTRONOMY

USING THE SITE DESCRIPTION PAGES

VISITING THE SITES

THE LEY LINE MYSTERY
---
THE SITES

ARGYLL AND ARRAN

MID AND SOUTH SCOTLAND

NORTH AND NORTH-EAST SCOTLAND

WESTERN ISLES AND MULL
---
Data

DATES OF EQUINOXES AND SOLSTICES, 1997 to 2030 AD

DATES OF MIDSUMMER AND MIDWINTER FULL MOONS, 1997 to 2030 AD
---
Recumbent Stone Circle NO717916*
How to find : Go to the village of Strachan which is 4km south of Banchory. Travel south over the bridge on the B974, then immediately turn east onto a minor road and follow it for 4.5km, to where another minor road branches to the left (north) between the trees. Take this road and after 200m the site is visible in the field on the left. The site is also known as 'Eslie the Greater'.
Best time to visit : Lunar major standstill.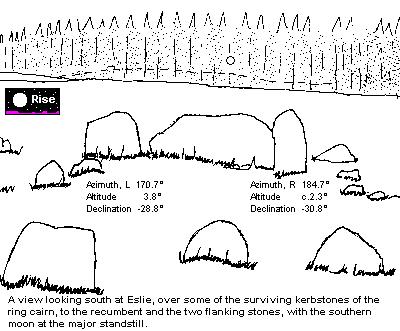 This site is a well preserved recumbent stone circle, set in a field and almost on the crest of a slope, with good views of the countryside to the west and north. Five of the stones of the circle are still standing, as are the two flankers and the large recumbent stone between. The ring of stones is not really a circle but an ellipse, about 27 metres by 23 metres in size.
Within the ellipse is a ring cairn, about 18 metres in diameter, with an open space in the centre. A few of the kerbstones of the ring cairn are visible. This site was dug into in 1873, when a stone cist containing charcoal and bone fragments was found.
The recumbent stone lies on the southern side of the ring, in a position slightly east of south. From the centre of the ring cairn, the width of the recumbent spans an azimuth range of 170.7° to 184.7°. The horizon is just visible through the conifers at the edge of the field, and has a value of 3.8° at the left side and 2.3° at the right side of the recumbent. These values give a declination of range of -28.8° to -30.8°, so approximately indicating the position of the moon on its extreme southerly path during the major standstill. At this time the moon will rise and then set within a period of only a few hours.
Alexander Thom thought that there was a summer solstice sunrise line from this circle to another stone circle called Eslie North, about 1km away at an azimuth of 43.1°, declination +24.1°.
---