Recumbent Stone Circle NJ732209*
How to find: The site is in state care, and is located 3km west of Inverurie on a minor road. It is signposted from the roundabout on Inverurie's western bypass (A96).
Best time of year to visit: Lunar major standstill.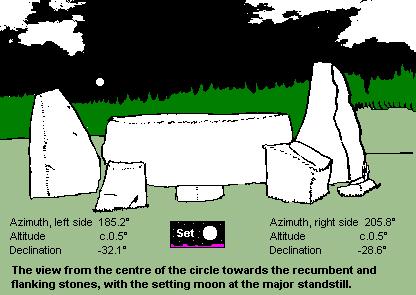 This is an impressive and well preserved recumbent stone circle. It is nearly 20 metres in diameter, and the stones are set out as a true circle.
It consists of nine stones, graded in size with the largest being closest to the large granite recumbent stone and its flankers, which are placed in the south-south-west. This grading is common to all recumbent stone circles. The flankers are well over 2 metres tall, and the recumbent is nearly four metres long and carefully shaped. Two small blocks of stone which lie against the inside face of the recumbent stone may have served to define the most sacred area inside the circle.
The stones of the circle are set into a bank, at least part of which has probably been added in modern times. Only faint traces of an internal ring cairn survive.
The band of horizon covered by the width of the recumbent stone as seen from the centre of the circle is 185.2° to 205.8°. The actual horizon is now blocked by a plantation of young conifers, with the lowest visible horizon being 1.7° at the left and 3.9° at the right. These values give a band of declinations from -31.2° to -25.5°. If the true horizon values, as is more likely, are about 0.5° in both cases, then the declination range indicated by the recumbent is from -32.1° to -28.6°.
This means that the setting southern full moon at the major standstill will set over the recumbent stone (see dates).
---