Alignment NS533807*
How to find : The site is on the southern slopes of Strath Blane, 2km north-west of the village of Blanefield. The B821 road goes west from Blanefield. From this road, a section of the West Highland Way leading north can be walked (look for the sign), and it passes close to the site after 1km.
Best time of year to visit : Summer solstice sunrise; Equinox sunrises.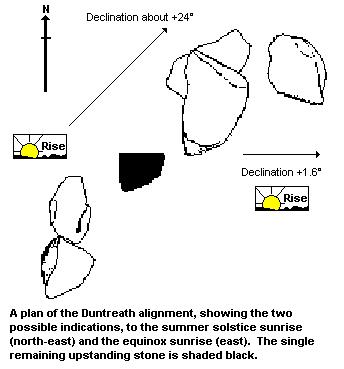 This badly wrecked alignment of five stones is on the top of a low hill. There is only one stone still upstanding, and the southernmost stone has been dragged into position relatively recently as field clearance. Although visually uninspiring, this is one of the few standing stone alignments in Scotland which has been excavated and dated by means of a radiocarbon sample.
Euan Mackie's excavation of 1972 showed that there had been a fire on the old ground surface immediately beside the southermost original stone, which left traces of ash and charcoal. This was dated to 2860 +- 270bc (radiocarbon years) which in calendar years falls into the period 3400-3500BC.
A collection of small flakes of pitchstone, flint and quartz, and a core of jasper, were found in a layer stratigraphically later than the ash and charcoal. Such objects would normally be assigned to the Mesolithic period, when the inhabitants of Scotland made their living from gathering and hunting.
However, the excavator suggested that the radiocarbon date obtained could reasonably relate to the erection of the stones, in the Early or Middle Neolithic period. If this is correct, the alignment is much earlier in date than archaeologists normally assume.
The one remaining standing stone in the group has an even face; this is aligned with a hill notch on the horizon to the east. Euan Mackie pointed out that the declination of the notch is very close to that of the rising spring equinox sun (two days later) or the rising autumnal equinox sun (two days earlier).
The alignment of all the stones points generally to the Strathblane hills in the north-east. Alexander Thom suggested the alignment indicates a notch in these hills, which gives a declination of about +24°, the stones therefore marking the direction of the prehistoric midsummer sunrise1.
---