Standing Stones NO046411*
How to find : Go south-east from Dunkeld on the A984 for 2km, following the river Tay. Just before a sharp left hand bend in the road the stones are visible in the woods on the left. It is not safe to park on the road itself, but there is a forest track into which you can pull off just north of the stones.
Best time of year to visit : Summer solstice sunset, June 21st.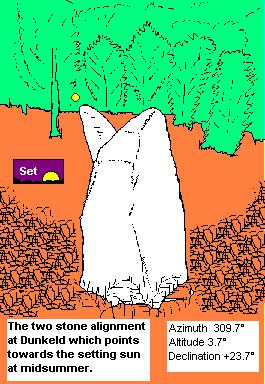 This monument is set now in a wood, in which the trees, and in summer the bracken, threaten to overwhelm the stones, but despite this horizon can still usually be seen.
The site consists of two standing stones in alignment, one stone being about 2 metres high and the other about 1.5 metres. The higher stone, which is the one to the north, is now leaning badly. The stones are set three metres apart.
The horizon to the south-east is completely blocked by the trees. However, to the north-west the horizon is just visible, and the stones indicate the position of the setting sun at midsummer. The bearing is 309.7°, which with a horizon altitude of 3.7° gives a declination of +23.7°. It is likely that this event will be visible from the site, despite the summer foliage.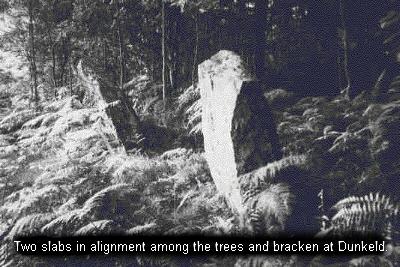 ---
Return to Mid and South Scotland index