Standing Stones NX362447*
How to find : The B7021 is the direct road between Whithorn and Port William. Half a mile east of its junction with the A714 the stones are visible in a field to the north. The site is in state care.
Best time of year to visit : Summer solstice sunrise, about June 21st. Winter solstice sunset, about December 22nd.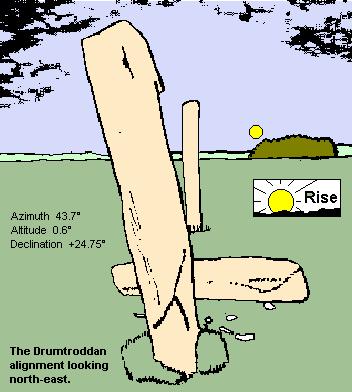 Two large stones stand in alignment here, with a third in-between now fallen. The pasture field can be muddy after wet weather.
The middle stone of a three stone prehistoric alignment was often deliberately pushed down in medieval times or even later, in an attempt to 'Christianise' the pagan monument by creating a cross shape. This may have been done here. The uprights are quite close to one another and are set on a north-east to south-west line.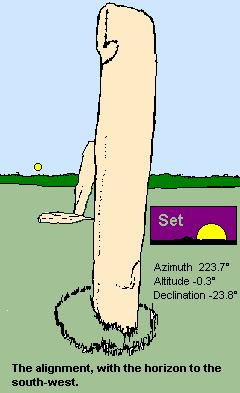 This site is interesting because the aligment of stones appears to indicate significant solar events in both directions. We may speculate whether this was done deliberately, or is simply a coincidence of the suitable bearing and horizon height at this latitude.
To the north-east, the azimuth of 43.7° with a horizon height of just over half a degree gives a declination of +24.75°, close to that of the rising sun at midsummer.
To the south-west, a bearing of 223.7° with a negative altitude of 0.3° produces a declination of -23.8°. This declination is that of the sun at midwinter.
If visiting this site, there is an excellent group of cup and ring carvings on bedrock located about 400m north of the standing stones at Drumtroddan farm. These carvings are in state care.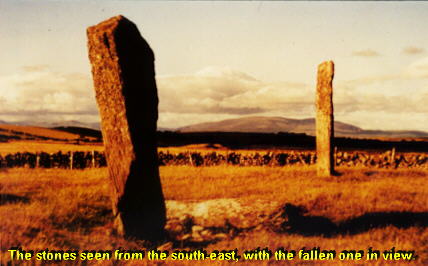 Update: The south east stone has now also fallen.
---