Alignment NN755005*
How to find : Travel east from Doune on the A820 ; after 0.5km turn right onto the B824 and continue for 2km. Look out for a farm track on the left. The stones are in an uncultivated part of the field east of the farm track, about 300m from the road.
Best time of year to visit : Major standstill moonrise, moonset (see dates).
This short alignment of three stones is hard to find and often almost hidden in the long grass, so a map is essential for location. The site is at a height of about 100m and is on a sight slope which faces north.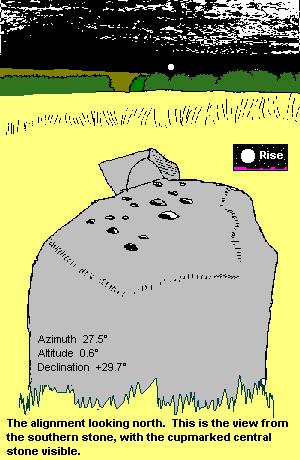 The tallest stone of the three, the southernmost, is only about two metres tall, and the stones are squat and square, but this does seem to be an astronomical alignment. A prostrate stone may have broken off the northernmost stone in the alignment, which it lies beside. The middle stone features over twenty cupmarks on its flattened top, and another four on the western side.
The alignment cannot be said to indicate any line very precisely. To the south-west the azimuth is about 207.5°, which with a tree covered horizon of about 1.5° gives a declination of -28.5°. If the true horizon is lower, the line would be closer to the setting position of the southern summer full moon at the major standstill.
To the north-east, the reverse azimuth of 27.5° with a horizon height of 0.6° gives a declination of +29.7°. This line may be an indicator of the general position of the rising northern winter full moon during the major standstill.
---