Standing stone alignment NM439520*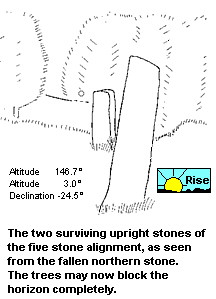 How to find: One kilometre east of Dervaig on the B8073 immediately after a sharp hairpin bend the stones can be seen in in opening in the conifer plantation 200m to the north.
Best time of year to visit: Possibilities - Midwinter sunrise, about December 22nd. Major standstill southern moonrise an/or major standstill northern moonset.
This was originally an alignment of five stones, but only two of them still remain standing. These two are large - both about 2.5 metres tall. The original alignment has been about 18 metres long. The first and last stones and the middle stone of the line have fallen.
Because the stones stand in a clearing in a thick conifer forest the view to one horizon (to the north-west) is now completely blocked by large trees, and the other (to the south west) is partly obscured.
The stones are thick, and so it is not easy to be certain of the precise line which is meant to be indicated. However, standing in a position at the northernmost fallen stone and lining up the the two standing stones the azimuth is about 146.7°, which with a horizon of about 3° gives a declination of -24.5°, which is close to that of the sun at midwinter, but the line is not accurate.
However, A. and A.S. Thom did a survey before the trees were there and they consider the line to indicate both the rising southern moon (south-east) and possibly the setting northern moon (north-west) at the major standstill.1 The northern line may be checked when the trees are felled.
There is another good stone row in the vicinity, a four stone group at NM435530.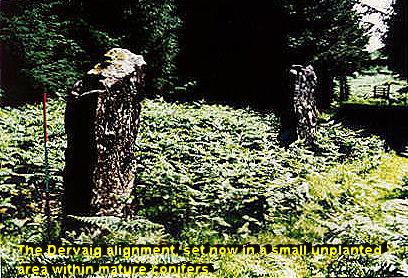 Update May 2019. Reader Ian Phillips has informed me that the trees around the site have been cleared, and the horizons have become visible. He has generously sent me photos of the site as it now looks, which can be seen here.
---