Ring Cairn NH844086*
How to find : Travel six kilometres south of Aviemore on the A9. Look for the small sign for Alvie estates on the west side of the road, and turn in there. Follow the estate road up and along the west side of the wood for about 1.5km. The cairn is visible in a field just east of the road. A stile gives access over the fence. Alternatively turn in to the estate just south of Loch Alvie and follow the unsealed road past Easter Delfour farm to the cairn. (Site is also known as 'Easter Delfour').
Best time of year to visit : Winter solstice sunset, December 21st/22nd.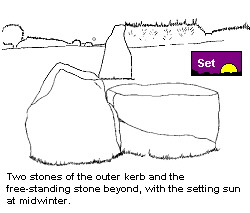 This is another ring cairn of the Clava group. (See explanation under Clava site itself, and also Gask).
It has lost most of its infilling cairn material, and what is to be seen consists of two concentric rings of kerbstones, the tallest of which in the outer ring are about 1.3m tall. These stones are graded so that the highest are in the south-west arc.
The inner ring of kerbstones is similarly graded. These have also been selected to fit together as closely as possible, to give a neat inner face. A small pile of stones now sits in the centre - this is modern!
Only one stone of the outer freestanding circle remains in place. It is nearly 3 metres tall and 1.7m wide by about 0.5m thick. As seen from the centre of the ring cairn this large outlier covers a band of 2.8° where it cuts the horizon. The declination range which results is from -25.1° at the left to -23.5° at the right. This means that the midwinter sun will set behind the stone.
As elsewhere, this site indicates an interest by the builders in the sun at its southernmost setting position; other Clava type sites reveal a similar interest in the southernmost setting of the moon. We can speculate that both heavenly bodies were revered.
---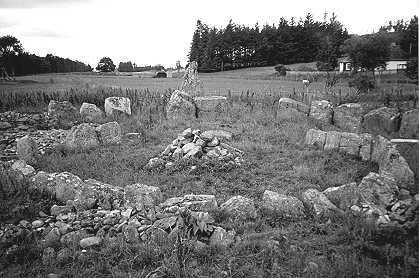 View over inner ring, looking to the south-west
---
Return to North and North-east Scotland index
Return to Stones of Wonder opening page