Standing Stone NX639792*
How to find : This fine stone is in a field just west of the A713, and is visible from the road about 1km north of the Ken Bridge. A gate at the north end of the field gives access. The field is often pasture, but do not enter if the field is under crop.
Best time of year to visit : Midday or any clear night.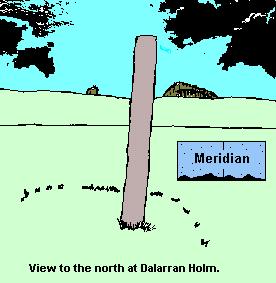 This slab of whinstone is 2.4 metres high, about a metre wide and only 30cm thick, and sits in the flood-plain of the river Ken.
An excavation close to the stone in 1971 produced several flint and chert tools and scrapers, likely to date to mesolithic times.
Here is another example of a stone which is set close to the meridian. In this case the long axis of the stone is set at 185° south and 5° north.
The stone therefore indicates the place in the northern sky around which the stars appear to circle when watched for a long period during any clear night. Any observer who watched the sky regularly at night would soon notice this phenomenon, especially if the stars were observed in groups or constellations, whose shapes and positions could be studied easily.
The stone also indicates to the south the highest point in the sky reached by the sun at noon, and by the moon as it crosses the sky.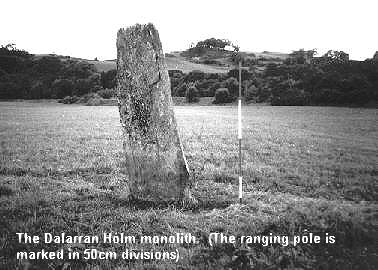 ---
Return to Mid and South Scotland index