Stone Circle NR195570*
How to find: The circle is in the Rhinns of Islay, on moorland about 6km north of Portnahaven.
Best time of year to visit: Winter solstice, about December 22nd.
This interesting, but badly wrecked circle was excavated in 1974 and 1975. Only three of its stones are still upright, 12 are lying recumbent and the positions of twelve empty sockets were discovered. Some of the recumbent stones may have been intended for the sockets but never inserted.
As well as his pioneering surveys of astronomical lines built into megalithic sites, the late Professor Alexander Thom also believed that the plans of some sites showed that a common unit of measurement was in use¹.
He called this the 'megalithic yard', which was about 2.72 feet. Associated with these ideas was the belief that many 'circles' of stones were not circles at all, but ellipses, egg-shapes, or flattened circles, all laid out geometrically using megalithic yards as measuring units.
While there is no obvious astronomical line now shown by the Cultoon circle, the excavator, Euan Mackie, believed that the ground plan, including the empty sockets, revealed that the circle here was really an ellipse measuring 44 x 43 megalithic yards.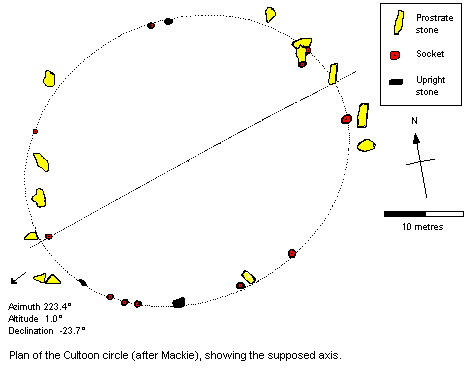 The long axis of this ellipse, marked now by a socket and a prostrate stone, is aligned NE-SW. To the north-east nothing seems to be indicated, but to the south-west the azimuth of about 223° indicates a line to Slieve Snaght, a mountain in Donegal in Ireland. With the horizon height of about 1°, the declination is close to -24°, in other words that of the setting sun at the winter solstice.
Visiting this site will allow you to decide whether you believe such interpretations are viable, though the chances of a casual visitor actually having weather clear enough to see the mountains of Donegal from Cultoon must be remote indeed!