Standing Stones NB247303

How to find: Travel east from Garynahine on the A858 for 1km. Looking to the south, a small rocky knoll can be seen with the standing stones on top. The walk of about 1.5km to the stones is over rough and wet moorland. Alternatively, after visiting the site at Airigh nam Bidearan, walk downhill to the river and cross the footbridge (you may have to remove and replace a sheep barrier on the bridge to cross), then follow the river east (upstream) until close to the stones, then walk up the hill. The site is also known as 'Callanish 6'.
Best time of year to visit: Summer solstice, winter solstice.
This isolated and unusual site requires a vigorous walk over very wet ground, but is easy to find, due to its position on a raised knoll which is visible for miles around, and it is well worth a visit.
There are two stones here, one measuring nearly 2 metres in height, and encrusted with lichen, the other being about a metre high. Both stones are set on the edge of the knoll; the stones do not have their flat faces aligned upon one another.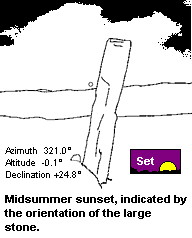 It has been suggested that the two upright stones are all that survive of a chambered cairn which once stood on the hillock, the cairn having been robbed out to build the sheep fank and shielings just below the site to the north-east¹. This may be true, but it equally likely that the two stones represent an original free-standing setting.
The larger of the two stones has flat sides, which indicate to the north-west an azimuth of 321.0°. Together with a low horizon altitude it indicates a declination of +24.8°, and this is close to the position of the setting sun at midsummer.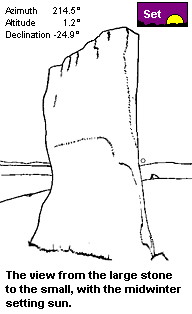 The reverse bearing from this large stone of 141.0° with a horizon altitude of half a degree indicates a declination of -24.1°, the position of the rising sun at midwinter.
Even more interesting is the fact that from the position of the large stone looking towards the smaller a bearing of 214.5° is indicated, with a horizon altitude of 1.2°. The resulting declination of -24.9° is close to the position of the setting sun at midwinter.
Thus the rising and setting positions of the sun on the shortest day of the year are both approximately indicated at this site. Such a pairing of indications is rare. This is also unlikely to be the result of the coincidental survival of stones from a destroyed chambered cairn, but only archaeological excavation could resolve this.
---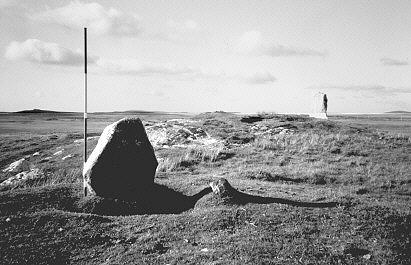 Cul a' Chleit, small stone in foreground
---