Standing Stone NM859016
How to find: Two kilometres north of Kilmartin on the A816 turn on to the B840 Ford and Loch Awe road. Travel up this road for 2km and the stone will be seen immediately beside the road on the right. The site is also known as 'Glennan north'.
Best time of year to visit: ? Equinox sunsets, March and September.
This has been one of the tallest standing stones in Scotland, but sadly it snapped during a gale in the year 1879. Now the remaining portion stands to a height of 2 metres. Originally the stone would have been about 5 metres high; the broken piece lies prostrate beside the stump. The fact that the stone snapped rather than fell from its socket during the gale testifies to the skill of its prehistoric erectors.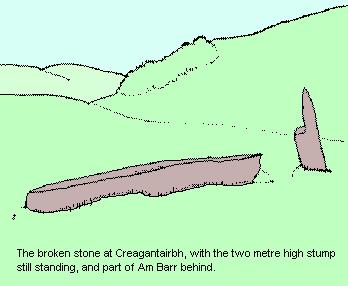 A stone this size must have been of some significance. The line appears to be indicated by the surviving flat faces of the stone.
To the east, the bearing of 76.0° together with a horizon height of 3.8° gives a declination of +10.7°. This is not of any known astronomical importance.
To the west the site is overlooked by Am Barr, which forms the local horizon. The height of the ridge to which the stone points is 11.5°. With the azimuth of 256.0°, the declination is +1.8°. With the very high horizon there would have been no difficulty for the prehistoric men and women to have marked a stellar line here. This declination matches that of the Pleiades about 2600BC. The Pleiades cluster is one of the most striking and easily recognizable night sky objects, and it is known that it was observed and named by many pre-technological cultures. The group is among those mentioned in some of the earliest astronomical records (made by the Chinese in 2357BC)¹. Today the Pleaides ride much higher in the sky and would pass over the hill in full view on any winter's night.
It has also been suggested that the line is actually about 254.6° in azimuth, with a declination of +0.8°, making it an indicator for the sunset at the two equinoxes in March and September². This is equally plausible.
---