Standing Stone NN792179*
How to find: From the B827 Braco to Dalginross road there is a minor road going east about 10km north of Braco or 3km south of Dalginross. It is signposted 'Muthill'. Follow this road for 1.5m and you will see the stone in the field to the north just opposite a small wood.
Best time of year to visit: Lunar minor standstill.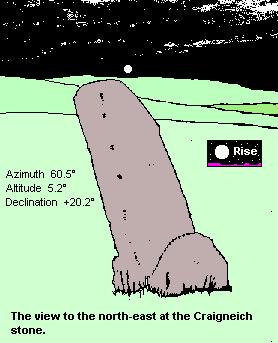 This stone is a thick block about two metres tall, with one good flat face on it. It now leans appreciably to the west.
If we imagine the stone set vertically, as it probably was when set up, we can assess any orientation. To the south-west, the azimuth of 240.5° with a horizon height of 4.3° gives a declination of-12.3°, which has no significance.
To the north-east though, the indicated azimuth is 60.5°. This, combined with the high horizon height of 5.2° gives a declination of +20.2°.
It is therefore possible that the stone was set up to mark the general position of the rising winter moon at the minor standstill, but the line is not very accurate. However, the moon will rise over the indicated ridge at that time during its 18.6 year cycle.
---