Standing Stones NO349602
How to find: Go north from Kirriemuir on the B955 but immediately after leaving the town go left on the minor road to Pearsie/Lednathie. After 7km stop at Muir of Pearsie farm. On the opposite (west) side of the road to the farm road there is a track which leads after 1km to the stones, which are right beside the track and cannot be missed. The site is also known as 'Glen Prosen'.
Best time of year to visit: Lunar major standstill. (See dates.)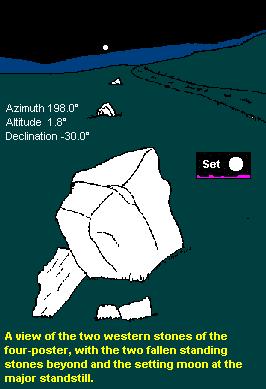 This site consists of two types of archaeological monument, which here appear in combination.
Four low stones not more than a metre high form a 'four poster', a small circle of stones. One of the stones is quite low and hard to find but definitely present as the stones are laid out in a rectangle. Four posters are fairly common in Perthshire and the north-east of Scotland and when excavated often contain cremations.
About twenty metres to the south-south-west lie two prostrate stones, which are fallen standing stones. They are about 2.4m long, so would have been prominent stones, up to 2m high, when standing.
The two largest stones of the four poster, which form one side of the rectangle, and the two fallen standing stones are in alignment.
To the north-north-west the alignment has a bearing of 18.0°, which with a horizon altitude of 3.2° gives a declination of +35.5°, which is of no known astronomical significance.
To the south-south-west the azimuth of 198.0° with a horizon height of 1.8° gives a declination of -30.0°, and is the setting position of the southernmost moon at the major standstill. The moon never sets any further to the south.
---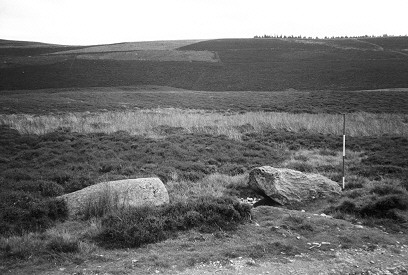 The fallen stones at Corogle Burn.