---
Stones of Wonder
QUICK LINKS ...

HOME PAGE



---
INTRODUCTION

WATCHING THE SUN, MOON AND STARS

THE MONUMENTS

THE PEOPLE AND THE SKY
---
BACKGROUND

ARCHAEOASTRONOMY

USING THE SITE DESCRIPTION PAGES

VISITING THE SITES

THE LEY LINE MYSTERY
---
THE SITES

ARGYLL AND ARRAN

MID AND SOUTH SCOTLAND

NORTH AND NORTH-EAST SCOTLAND

WESTERN ISLES AND MULL
---
Data

DATES OF EQUINOXES AND SOLSTICES, 1997 to 2030 AD

DATES OF MIDSUMMER AND MIDWINTER FULL MOONS, 1997 to 2030 AD
---
Standing Stone NB375537*
How to find: Ballantrushal is about 20km north of Stornoway on the A857. Turn west into the township and after 600m a track leads to a parking area and to the stone. The stone is in the care of Historic Scotland.
Best time of year to visit: Any time.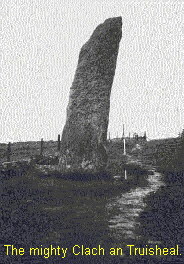 This monstrous standing stone is the largest in Scotland, and is nearly six metres tall. It is 2 metres wide and less than a metre thick. It now leans slightly to the south, so stand on the north side!
The local explanation is that the stone marks the site of a battle, although it is considered by archaeologists to be a genuine prehistoric stone. A very thick layer of peat cut away in the 19th century attests to the stone's age.
The longer faces of the stone are slightly convex in shape, and the stone is orientated north-east to south-west. The horizon band indicated in either direction was surveyed independently, as it was thought that simply reversing one set of lines would possibly be misleading. As it turned out, the results were very close. The horizon band covered by the thickness of the stone to an observer standing a couple of metres away is 17-18°, and it could be argued that such a wide area of sky is bound to contain a solar or lunar target. In fact if we discount the practical intermediate calendar positions as incapable of being marked by such a stone, Clach an Truisheal covers no significant solar or lunar line in either direction.
Also, the low horizons around seem to indicate that no group of stars would have been visible rising or setting either. The western bearings indicated by the stone are in the range 249° to 266°, and the altitudes are between 1° and 0.6°. The constellation Orion, which includes several bright stars, would have set or faded out of view behind the stone in prehistoric times. About 2500BC Bellatrix and Betelgeuse would have set behind the stone, and by 2000BC the whole top half of Orion would do so. Today, the bottom half of Orion sets behind the stone, with the upper part, including Bellatrix and Betelgeuse setting off to the right.
But such ideas are speculation only, and a visit to this stone is worthwhile if only to appreciate what our prehistoric forebears could achieve as engineers and labourers when they really tried.
---