---
Stones of Wonder
QUICK LINKS ...

HOME PAGE



---
INTRODUCTION

WATCHING THE SUN, MOON AND STARS

THE MONUMENTS

THE PEOPLE AND THE SKY
---
BACKGROUND

ARCHAEOASTRONOMY

USING THE SITE DESCRIPTION PAGES

VISITING THE SITES

THE LEY LINE MYSTERY
---
THE SITES

ARGYLL AND ARRAN

MID AND SOUTH SCOTLAND

NORTH AND NORTH-EAST SCOTLAND

WESTERN ISLES AND MULL
---
Data

DATES OF EQUINOXES AND SOLSTICES, 1997 to 2030 AD

DATES OF MIDSUMMER AND MIDWINTER FULL MOONS, 1997 to 2030 AD
---
Standing Stone Alignment NR658244*
How to find : The site is on the east side of the sand dunes of the Machrihanish links. It may be approached by the minor road which passes the closed RAF base and Clochkeil farm, then across the field to the dunes, which are just visible from the road; or you may park in the beach car park at Westport (655263) and have a walk of 1.5km down the beach before cutting across the dunes to the site. The monument is in a hollow, and not obvious if approaching from the beach side, until you are very close to it.
Best time of year to visit : Summer solstice, about June 21st.
This attractive and unusually situated site originally consisted of three standing stones set in a line. The northernmost stone has fallen and become buried in the sand, though you may be able to see one end of it still exposed. The other two stones, measuring 1.9 and 1.2m high, remain standing. The alignment is NE - SW, though the southern stone has its long axis at right angles to the line. The immediate topography of the site (which consists of sand dunes) will have changed since prehistoric times.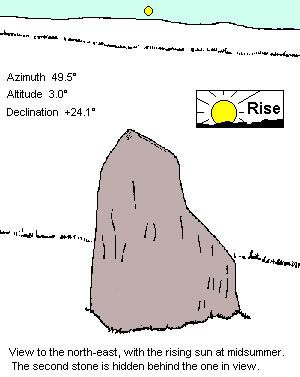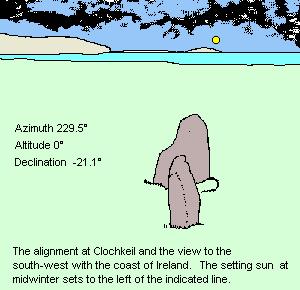 To the north-east the sun at midsummer rises over a flat-topped hill less than 2km away, while to the south-west the setting midwinter sun sinks behind Ireland, which is about 40km away across the North Channel, and perfectly visible on a clear day. The stones do not indicate this midwinter line accurately, and the midsummer line is likely to be the one intended. There is a similarity here with the monument at Ballochroy, where the stones are set at right angles to the alignment itself. This is not likely to be simple coincidence.
A calm day in winter is much the most likely time to see the coast of Antrim.
---