Standing Stone NR 72393 21234* Location map
How to find : From High Street in Campbeltown (Dalintober) go up the Walk. At the left hand bend go through the gate on the right, then follow the hill 100m up to the stone.
Best time of year to visit : ? Lunar major standstill.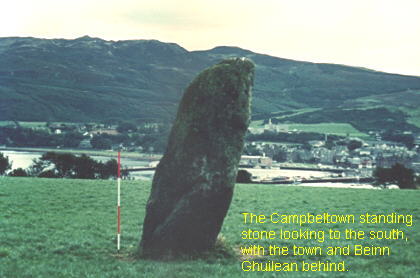 A climb to this fine cupmarked standing stone gives a good view over Campbeltown and the loch, with the beautiful Beinn Ghuilean rising behind. The monolith is 4 metres tall by about 1.5 metres wide and half a metre thick, and leans to the north and to the west.
This is a fairly well known stone, which features in many books on ancient astronomy1 as well in astronomical software found on computers in classrooms around the world.
The stone's flat faces point east - west, with fairly close horizons for both lines. There are no obvious astronomical targets in either of these directions.
The site is well known because Alexander Thom suggested that the stone was the stance for observations of the moon at its extreme southerly position during the major standstill, at due south2. At this position the moon would only barely rise over the highest point of Beinn Ghuilean before setting again shortly after. There is no doubt this would have been a significant and dramatic event to a prehistoric observer.
The problem with this interpretation is that there is nothing about the stone itself which suggests we should look in the correct direction. It would presumably have been just as easy to orientate the stone north-south as east-west, but this was not done.
Almost all the sites in this book feature orientations which are built in to the prehistoric monuments in some way, whether it be an alignment of stones, the flat face of a single stone, a cairn passage, or a large recumbent stone. It is only justifiable to select a horizon point as the significant bearing if we can be reasonably sure it is being indicated by the site itself.
However, we recommend a visit to the site to judge for yourself. Thom also suggested that the huge 5 metre menhir at Beacharr (NR693433) only 25km north of Campbeltown was the backsight for the setting moon over Jura at the major standstill3. This is a suberb stone and well worth visiting, but has no appreciable orientation.
---