Ring Cairn NH499414*
How to find : The village of Kiltarlity is 15km west of Inverness on the A862/A833. Continue west from Kiltarlity, and 400m past the bridge the cairn is visible immediately to the south of the road.
Best time of year to visit : Midwinter sunset.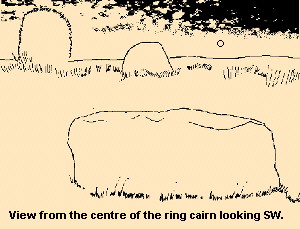 This ring cairn has lost all of its loose cairn material and the inner kerb as well. The stones are no doubt now part of the nearby dykes.
What survives here is the outer kerb of the cairn, built of boulders, and the freestanding stone ring. The diameter of the outer kerb is 14 metres, and this survives fairly well. There are two kerbstones which are cupmarked on top, one on the south side of the ring and one on the north-west side. The surrounding ring of stones is about 22 metres in diameter, with the largest stones being about 2 metres high. Not all of these stones seem to be part of the original structure as some are very unevenly spaced.
The kerbstones and the stones of the outer ring are graded to the south-west, as is usual with this kind of monument. The viewing line is taken to be from the centre looking out over the largest kerbstone to the large stone in the outer ring. It must be noted that as the ring of kerbstones is not truly circular, choosing the 'centre' is a bit arbitrary.
The azimuth range defined by the outer stone is 199.8° to 204.2°, with the horizon heights at these points being 3.7° and 4.1°, which do not produce declinations of any significance. It may be that the cairn was structured to respect in a general way the setting position of the sun at midwinter.
This being so, it is interesting that the highest point of the same outer stone has an azimuth of 202.7°, with an altitude of 5.5°, giving a declination of -24.6°, so that the midwinter sun sinks over the stone before setting to the right of it.
---