---
Stones of Wonder
QUICK LINKS ...

HOME PAGE



---
INTRODUCTION

WATCHING THE SUN, MOON AND STARS

THE MONUMENTS

THE PEOPLE AND THE SKY
---
BACKGROUND

ARCHAEOASTRONOMY

USING THE SITE DESCRIPTION PAGES

VISITING THE SITES

THE LEY LINE MYSTERY
---
THE SITES

ARGYLL AND ARRAN

MID AND SOUTH SCOTLAND

NORTH AND NORTH-EAST SCOTLAND

WESTERN ISLES AND MULL
---
Data

DATES OF EQUINOXES AND SOLSTICES, 1997 to 2030 AD

DATES OF MIDSUMMER AND MIDWINTER FULL MOONS, 1997 to 2030 AD
---
Stone Circle, Henge, Mounds HY 29450 13361*
How to find : Follow the A965 west from Kirkwall for 16km, then take the B9055 north-west for 2km. The site is easily visible, and is in state care.
Best time of year to visit : Lunar major and minor standstills (see dates).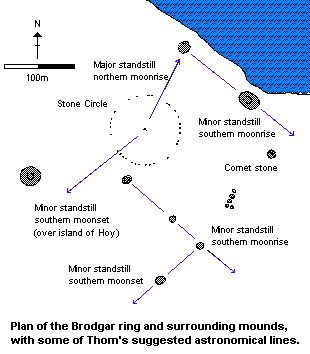 This attractive and well-visited site consists of a circular ring of stones set inside a bank and deep ditch cut out of the rock. Such round bank and ditch features are called henges. There are also several prehistoric mounds nearby. The site is likely to date to the late Neolithic or Early Bronze age period.
The ring is the biggest stone circle in Scotland, and is fully 103 metres in diameter. The circle was restored in 1906, and many of the fallen stones were re-erected at that time. There are now 27 stones of the ring upstanding, with about 13 stumps still also in position. The tallest stone of the ring is an impressive 4.5 metres tall. Originally, there would have been 60 stones in the circle, spaced at even distances apart. All the surviving stones are carefully set with their flat faces along the perimeter. The external bank and ditch which surrounds the circle is crossed by entrance causeways at the south-east and north-west.
There are carvings on four of the stones, which you may wish to spot. Going clockwise from the north-west entrance, the carvings are on stone 3 (runes, undeciphered), stone 4 (a cross), stone 8 (an anvil), and stone 9 (an ogham inscription). All of these are of a later period than the circle itself.
A. Thom and A.S. Thom have proposed that the ring and surrounding mounds were used together to indicate foresights for observations of the moon at both the major and minor standstills1. A simplified version of the lines suggested are in the diagram above. This interpretation is ingenious, but if mounds were really used astronomically in such a way, this is the only site so far identified where this is true.
---
One of the suggested astronomical lines at the Ring of Brodgar is to the minor standstill southern moonset, indicated by the cliffs at Hellia on the island of Hoy. These cliffs are visible in this photograph of part of the Brodgar ring and the south-western horizon.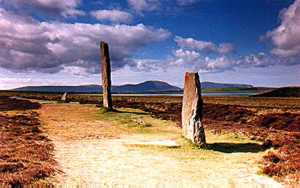 Photo of Brodgar by courtesy of Sigurd Towrie. Find out more about Orkney by visiting his Orkneyjar Website.
---