Standing Stones etc. NR976952
How to find : Walk south along the shore from the village of Minard for 1km. The site is visible in a ride between the conifers, a few metres from the shoreline. There are boards offering interpretations of the site.
Best time of year to visit : Midsummer sunrise, about June 21st.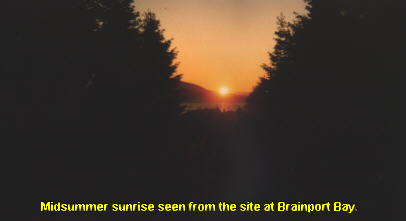 This is an interesting and unusual prehistoric site, well known because of its discovery1 and also the later fight to protect the site from development2.
There are three parts to the site, all on a north-east to south-west line about 60 metres long.
At the north-east, closest to the sea is the 'main outcrop' (descriptions follow published accounts)3,4. This is a natural feature with a V-shaped notch, at which were found two stone sockets. Two stone slabs were found nearby when the site was excavated which fit into these sockets and they have been re-erected.
Nine metres to the south-west are the 'observation boulders'. These are an entirely natural feature. Standing here an observer has a view to the standing stones which are framed in the notch of the main outcrop, and beyond that to Loch Fyne and (on a clear day) the distant Beinn Oss and Beinn Dubhcraig, 45 kilometres away. This is where the sun rises at midsummer.
The line appears to indicate the cleft between the two mountains, with an azimuth of about 45.5° and a declination of +23.3º. At about 1800BC this would have marked the first flash of the rising sun about two weeks before and after the summer solstice. Because of the change in the obliquity of the ecliptic, the midsummer sun today rises much closer to the indicated position.
Another 50m back on the same line is the 'back platform', at a higher level, consisting of a paved and revetted rock outcrop, from where a large group could have gathered for a view of the rising sun.
Worked flint and pieces of quartz were found at various places on the site during excavation, and a radiocarbon date of about 1400BC was obtained from a buried soil layer behind the back platform.
The modern excavators of the site believe that a set of natural features were found here which suited the purposes of the prehistoric people interested in the movements of the sun, and the site was adapted by the addition of paving, revetting and standing stones to serve a mainly ceremonial but possibly also calendrical function.
A visitor will however be struck by the insignificance of the two stones which are meant to mark the astronomical line, and one wonders how convincing the site would be were it not set in a forest ride which follows the supposed alignment but blocks off views in other directions. But there is no doubt that the site is prehistoric and gives a spectacular view of the midsummer rising sun.
---
The small re-erected stones at Brainport Bay


---