Standing Stone NX498562*
How to find: A stretch of the A75 bypasses Carsluith on the east side of Wigton Bay. From the old road at Carsluith take the single track road towards Bagbie and Cambret. After 1.5km there is a sharp bend to the right, with an area to park off the road and a sign to Kirkmabreck Church. Follow the track for a hundred metres or so to a gate, then go south to the stone. The stone itself is visible on the way up the road. Site also known as 'Kirkmabreck'.
Best time of year to visit: Any clear night, or midday.
This standing stone is about 1.7m tall, 0.8m wide and only about 30cm thick. It is carved and weathered by age and exposure, but still standing absolutely straight.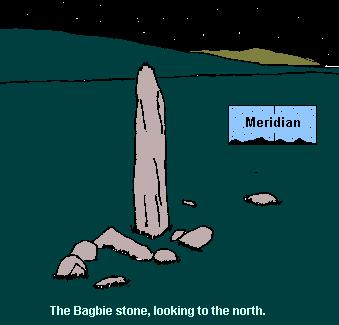 It is set on an approximately north-south line (174°/354°), and is likely to be another example of a stone which its builders set up to mark the meridian.
As well as marking the 'pole' around which the stars in the northern sky appear to revolve, a stone set on a north-south line also indicates to the south the highest point in the sky which the sun and the moon reach in their daily movement.
This direction can be established during the day by the shadow cast by the stone, with the time of the shortest shadow being local noon when the sun is due south. This also serves to mark the halfway point through the daylight period.
This connection of noon and the highest point of the sun in the sky has been lost in modern times. This loss is due to the adoption of a common time system over the whole country (called 'railway time' in the 19th century for obvious reasons) based on the position of the sun at Greenwich, over 4° east of Bagbie (where noon is at about 12.20) and over 6° east of the Western Isles (where noon is at 12.30).
In summer the difference between clock time and the position of the sun at noon is made even greater by the use of 'Summer Time', during which true 'noon' in Scotland occurs sometime after one o'clock.
The prehistoric stones belong to a period when the movements of the heavenly bodies were the only timekeepers needed.
---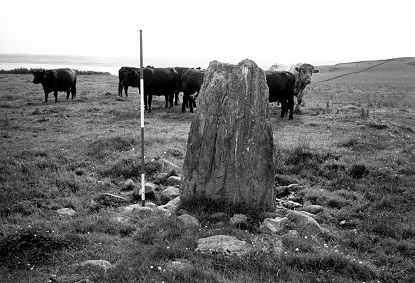 The Bagbie stone. Note approaching bull.


---
Return to Mid and South Scotland index