Standing Stone NR838674*
How to find : Follow the A83 south from Tarbert for 1km, then take the minor road on the right (signposted for Kilberry). After 1km go left on the B8024. After 2km look out for the stone in the field to the left (east).
Best time of year to visit : Lunar major standstill (see dates).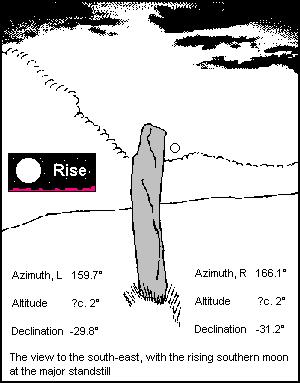 This is a single slab about 2 metres tall by one metre wide and about 20cm thick. It is aligned south-east to north-west.
To the north-west the horizon is very close and very high, and with the bearing of the stone gives a declination in the +40s, beyond any position the sun or moon can occupy.
It would be suitable though for an indicator to the star Arcturus, the second brightest in the northern sky after Sirius, at the beginning of the 3rd millenium BC. The extremely high horizon height would mean of course that the star would be fully visible as it appeared. This may seem an unlikely interpretation of the function of the stone however. Also remember the star is no longer anywhere near this declination.
To the south-east the azimuth range defined by the stone is from 159.7° to 166.1°. The true horizon heights are hidden in summer by trees, with the first gleam of sky being visible to an observer at about 3.3°. At this height for each bearing the declinations are in the range -28.8° to -30.0°.
If the real height is about 2°, the declination values are then in the range -29.8° to -31.2°. The stone would then indicate the position of the most southerly full moon rising at the major standstill.
---