---
Stones of Wonder
QUICK LINKS ...

HOME PAGE



---
INTRODUCTION

WATCHING THE SUN, MOON AND STARS

THE MONUMENTS

THE PEOPLE AND THE SKY
---
BACKGROUND

ARCHAEOASTRONOMY

USING THE SITE DESCRIPTION PAGES

VISITING THE SITES

THE LEY LINE MYSTERY
---
THE SITES

ARGYLL AND ARRAN

MID AND SOUTH SCOTLAND

NORTH AND NORTH-EAST SCOTLAND

WESTERN ISLES AND MULL
---
Data

DATES OF EQUINOXES AND SOLSTICES, 1997 to 2030 AD

DATES OF MIDSUMMER AND MIDWINTER FULL MOONS, 1997 to 2030 AD
---
Chambered Cairn NH908167*
How to find : The site is 3km north-east of Aviemore. Heading north on the A95 a track at Avielochan leads east towards the main railway line. Just before the railway bridge across the railway the site can be seen on a small natural wooded knoll on the left. Park in the space before the bridge. The field is often under crop, so follow the very edge of the field (by the railway) across to the knoll.
Best time of year to visit : Major standstill moonset. (see dates).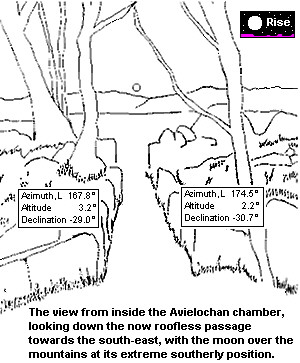 This chambered cairn is set within a little stand of trees at the edge of a field and is almost hidden away, especially in summer. It is definitely of the Clava type, but lacks a surrounding ring of freestanding stones. The cairn has been robbed in the past of much of its height. Most of the outer kerb still remains though, defining a cairn about 13m in diameter. Like the sites at Clava itself there is a platform of stones outside the kerb, here about three metres wide.
The largest kerbstone is still in place at the west side of the entrance, but its partner at the opposite side has been removed. The chamber and passage are distinct, having been cleared out during an excavation of the site before the First World War. The passage walls are nowhere more than about a metre high, while the chamber walls rise to only half a metre. The finds from the excavation consisted of some charcoal and a fragment of a jet armlet.
This site is visited by modern practitioners of witchcraft, who have scratched a pentagram into one of the stones of the passage. You may also find the remains of coloured candles set inside the chamber.
Avielochan is unusual in that the passage is orientated towards the south-east; nearly all the other Clava type cairn passages point towards the south-west. The azimuth range between 168° and 174°, combined with the horizon height of 2°-3°, means that the indicated declination is that of the extreme southern position of the moon during its major standstill. The range of declinations is from -29.0° to -30.7°. During the standstill the southern moon would rise over the spectacular Cairngorm range, and set again very shortly afterwards.
---