Recumbent Stone Circle NJ601287*
How to find : From the centre of the village of Insch take the unclassified road leading west for three kilometres. Go left where the road forks and you will see the site immediately to the left in a field. The site is also referred to as 'Stonehead'.
Best time of year to visit : Winter solstice sunset.
This site is a recumbent stone circle at which all the stones of the circle have been removed, and only the large recumbent and its two substantial flanking stones remain in position.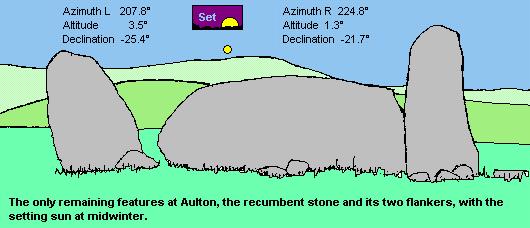 The loss of the circle of course means that it is not possible without excavation to establish the centre, and so the exact position the horizon is likely to have been viewed from. The figures given below are therefore very approximate and subject to revision.
In this case the viewing position was estimated, with a position at right angles to the recumbent chosen, and the following values obtained. The recumbent stone covers azimuths in the range 207.8° to 224.8°, and horizon values of 3.5° to 1.3°. The resulting declination values of -25.4° to -21.7° which are covered by the width of the recumbent thus cover the setting position of the sun on midwinter's day.
It may be noted also that the minor standstill moon (declination -20°) sets behind the right flanker.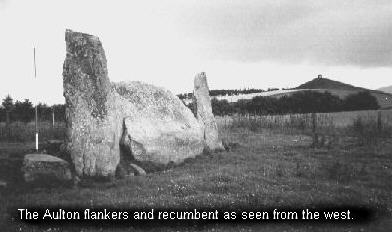 ---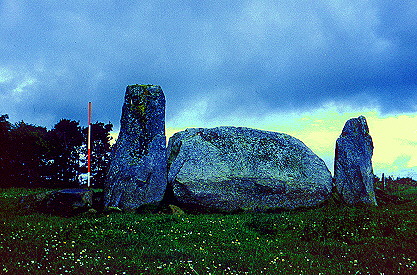 Another view of the remains of the Aulton RSC, from outside the area of the original ring.

---
Return to North and North-east Scotland index
Return to Stones of Wonder opening page