---
Stones of Wonder
QUICK LINKS ...

HOME PAGE



---
INTRODUCTION

WATCHING THE SUN, MOON AND STARS

THE MONUMENTS

THE PEOPLE AND THE SKY
---
BACKGROUND

ARCHAEOASTRONOMY

USING THE SITE DESCRIPTION PAGES

VISITING THE SITES

THE LEY LINE MYSTERY
---
THE SITES

ARGYLL AND ARRAN

MID AND SOUTH SCOTLAND

NORTH AND NORTH-EAST SCOTLAND

WESTERN ISLES AND MULL
---
Data

DATES OF EQUINOXES AND SOLSTICES, 1997 to 2030 AD

DATES OF MIDSUMMER AND MIDWINTER FULL MOONS, 1997 to 2030 AD
---
Standing Stone NR757602
How to find : Follow the A83 south from Tarbert for 1km, then take the minor road on the right (signposted for Kilberry). After 1km go left on the B8024. After 11 km take the unclassified road on the left for 1km, when the stone will become visible in the field to the left (east). Site also known as 'Achadh chaorann'.
Best time of year to visit : Two weeks before / two weeks after winter solstice at sunrise.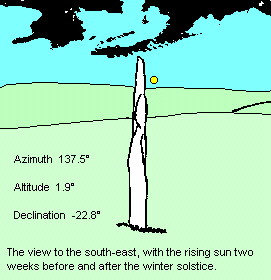 This is a single slab over 2 metres tall and about 1.4 metres wide by 30cm thick. It is very weathered and frost has cracked the top into jagged points. There are four shallow cupmarks on the north-east face, near the ground.
The stone appears to be genuinely prehistoric, and is so thin that there is no doubt about the bearings it indicates. At this site we have a good illustration of the problems of interpretation of the astronomical potential of standing stones. The bearings and resulting declinations do not match the significant lunar, solar or stellar lines featured elsewhere in this book.
There are several explanations for this. For example, one reason might be that that the stone is not prehistoric. It may be prehistoric and not deliberately orientated. Or, it may be prehistoric but has fallen in the past and been re-erected in the wrong place. Excavation of the socket would possibly determine these points. Again, the indicated line may have had some significance to the builders which is now lost to us. If we dismiss the stone from consideration, we are open to the criticism that only stones which fit the astronomical theory are being considered, thus distorting the view of prehistoric monuments.
These points may only derive from the limited nature of prehistoric archaeological investigation, in which the tiny amount of surviving evidence ensures that the past will always hold its secrets.
With this in mind, the bearings are as follows. To the north-west an azimuth of 317.5° with a horizon of 2.8° gives a declination of +26.8°, of no known significance. To the south-east, the bearing of 137.5° with an altitude of 1.9° gives a declination of -22.8°, which is that of the sun two weeks before and two weeks after the winter solstice.
---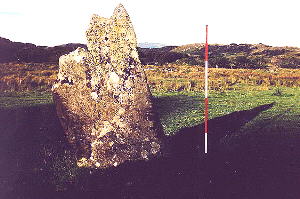 The Ardpatrick stone