Standing Stone NS002861
How to find : Travel south from Strachur on the A886 for 21km. The site is to the west of the road, about 400 metres north of Ardachearanbeg, and lies between the edge of a field and the river Rue.
Best time of year to visit : Midwinter sunset, December 21st/22nd.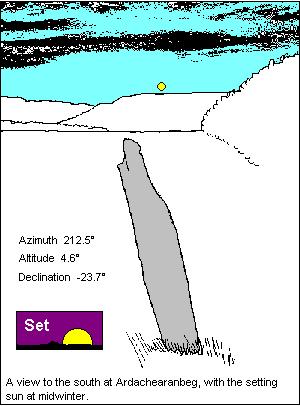 This stone is about 1.5m tall, and is set on the edge of a terrace above the river. It is also on the edge of a field, often an indication that a standing stone has been moved and re-erected in the past, though there is no record of this being done in the case of this particular stone.
The flat faces of the stone are orientated north-north-east to south-south-west, approximately on the line of the glen itself. The stone is leaning slightly to the east, and the survey assumes that originally the stone had been set vertically.
To the north, the bearing of 32.5° with a horizon height of 6.5° gives a declination of +34.1°, which is of no known astronomical significance.
To the south, the bearing is 212.5°, which with a another relatively high horizon of 4.6° gives a declination of -23.7°. This is very close to the setting position of the sun at midwinter, when the sun would drop behind the hills about 4km distant. In a narrow glen such as Glendaruel the short period of sunlight at midwinter would be even more pronounced than elsewhere.