How to find: This imposing standing stone is at the side of a football field on the campus of Stirling university. Parking nearby may be difficult during university term time, but it is not difficult in June.
Best time of year to visit: Midsummer solstice, 20th-23rd June.
This stone measures1.5m by 0.7m at ground-level and it is 2.7m in height.
The stone is aligned NE-SW, though the flat faces of the stone are not parallel.
To the north of the stone are the Ochil hills, with the site of the later Iron age fort called Dumyat ('fortress of the Maeatae') especially prominent on the ridge.
The western face of the stone indicates the point on the ridge where the sun rises at midsummer. Because the ridge is so high, it is already broad daylight when the sun appears, but it is still a spectacular sight.
There is no record of this stone having been re-erected, and it seems to have been left in place when the grounds around were cleared and levelled as a playing field. However, there is a strong magnetic anomaly at the north end of the stone suggesting iron supports in the ground below.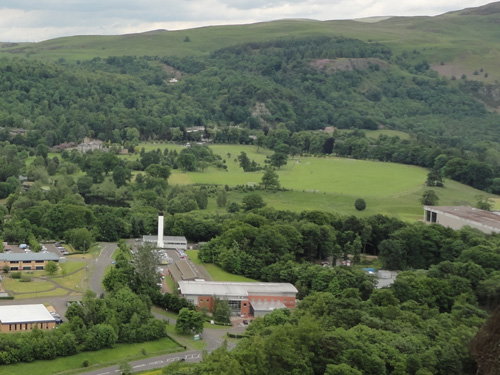 Airthrey standing stone just visible in the Stirling university campus, in the green field at centre right. Airthrey castle itself is at centre left, and the south entrance to the campus is at bottom.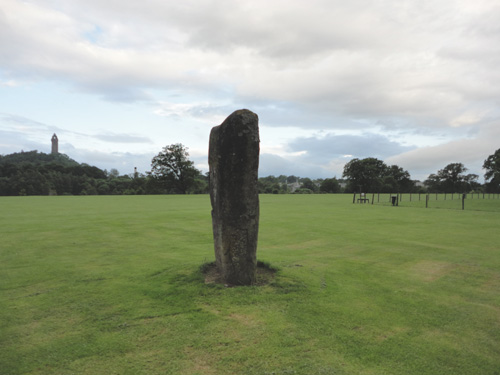 The Airthrey Castle standing stone looking south, with the Wallace monument in view.
.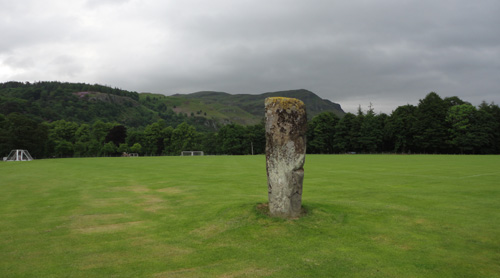 The Airthrey standing stone looking north-east.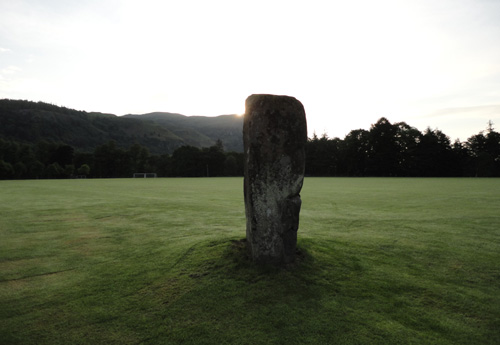 Summer Solstice sunrise at the Airthrey Castle standing stone (5.53am).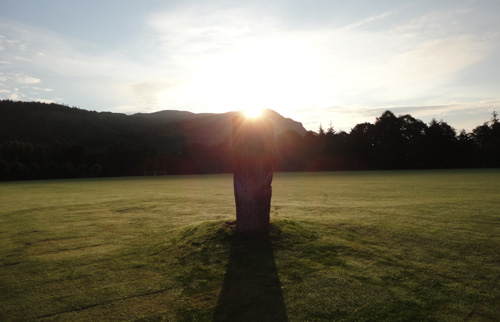 Summer Solstice sunrise at the Airthrey Castle standing stone (5.57am).
---
---
Return to Mid and South Scotland index