Standing Stone NB222356
How to find: From Breasclete just north of Callanish take the unclassified road leading east. Stop at the first cattle grid and walk directly up the slope to the north for a few minutes. The site is then visible on a level terrace. The site is also known as Callanish 11.
Best time of year to visit: Winter solstice sunrise; lunar minor standstill; lunar major standstill.
This enigmatic and unspectacular site is fundamentally different to the impressive circles and alignments which are situated down by Loch Roag. Having made the short climb to the site the view is tremendous, with the mountains of Harris in view to the south, and the island of Great Bernera to the west.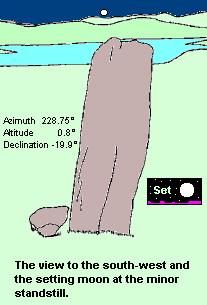 A single standing stone is to be seen close to the northern side of the terrace. It is 1.5 metres tall, with its longer faces orientated north-east to south-west. Assuming the stone was meant to stand vertically (it now leans to the north) the azimuth of 228.75° with a horizon height of 0.8° gives a declination of -19.9°, the position of the setting moon at the minor standstill. The horizon in the opposite direction is very close and so this is unlikely to have been the intended line.
Other features on the southern edge of the terrace have recently been noted by researchers.1 These include the possible stump of a standing stone, and a fallen stone which has been cleared of peat.
If the still standing stone is treated as a backsight or viewing position, then the bearings to these two features become significant. The azimuth from the standing stone to the fallen stone is 144.6°, which with a horizon height of -0.1° gives the rising position of the sun at midwinter.
Any visitor to the site who has the benefit of clear weather will be struck by the prominent notch on the horizon to the south-south-west. This notch is seventeen miles away, and is formed by the col between the mountains Uisgnaval Mor and Mulla-fo dheas. The larger mountain to the left of these two is Clisham, the highest in the Hebrides.

From the standing stone towards the stump the indicated azimuth of 196.9° with a horizon height of 1.2° gives a declination of -29.5°. (The line points to the rightmost mountain, Uisgnaval). This indicates that the southernmost full moon at the major standstill sets into the col. Coincidentally, the great site of Callanish itself lies almost on the same line, and is visible with the naked eye.
This site is open to the criticism that the stones are small and insignificant for a site which it is suggested marks one important solar and two important lunar events. However, as at the sites of Cul a' Chleit and Airidh nam Bidearan in the same area, the stones may represent genuine astronomical lines.

---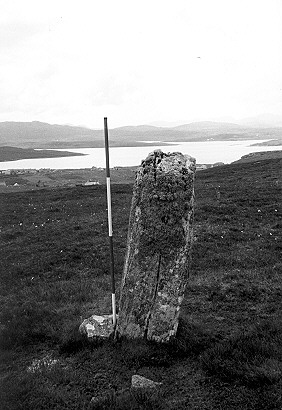 A view of the stone, looking to the south-west.

Return to Western Isles and Mull index