Alignment, Standing stone NR931683* & 936678*
How to find: This site is on the southern tip of the Cowal peninsula. From the village of Tighnabruaich follow the B8000 south to Kames then west to the crossroads at Millhouse. Continue west from here on the unclassified road (signposted 'Portavadie'). After 1.5km you will pass the road to Stillaig farm on the left ; 200m further on is another track on the left which leads to the standing stone. This is a private road and not suitable for cars. A walk of one kilometre brings you to the single stone, from where the large stone of the alignment is visible across the moor to the north-west.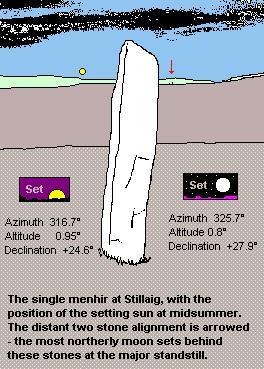 Best time of year to visit: Summer solstice sunset ; major standstill moonset.
This site is near the shore in a most attractive part of Cowal, with good views of Arran to the south and the hills of Kintyre and Knapdale to the west.
The site consists of a single standing stone about 2m tall, which stands just beside the track, and an alignment of two stones about 700m away. The southern stone of this alignment has snapped near the base, though the stump is still in place.
The single standing stone has a good flat face on the southern side, which gives an azimuth to the north-west of 316.7°. With the horizon height of just under one degree, this produces a line slightly north of the setting position of the midsummer sun, a declination of +24.6°.
If you also choose to visit the alignment which is clearly visible just below the horizon and usually silhouetted against the hazy hills beyond, then be warned that the ground on the way over is very boggy indeed even in summer.
The alignment consists of a stump and a large stone about 3m tall. The indicated lines have azimuths of 345.6° and 165.6°, which produce declinations of no known significance.
It may be that the function of the two stones here were as foresights, indicating another place to look from the single stone to the south. From the single stone the bearing of 325.4° to the southern stone and 325.7° to the northern stone with the horizon height of 0.8° give declinations of +27.8° and +27.9°. This is the declination of the moon at the major standstill, when it sets farther to the north than at any other time.
Thus from the single stone at Stillaig both the extreme northern setting positions of the sun and the moon can be observed, the position for the sun approximately indicated by the smooth face of the stone itself, and that for the moon indicated by the stones on the horizon.
---